Warriors fight past the Eagles
Biola's tennis teams faced off against Westmont on Feb. 25 and came away with a pair of losses.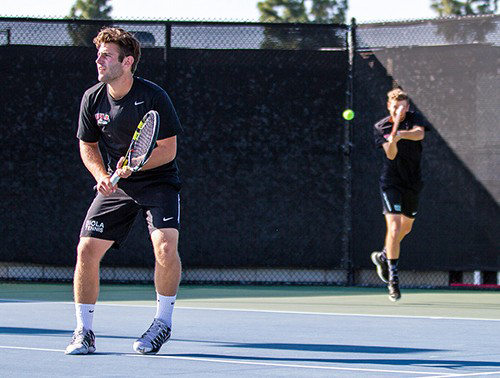 The Westmont College Warriors came to the Biola Tennis Center on Feb. 25 ready for action against the Eagles' men's and women's teams. Biola's men lost 7-2 while the women finished with a heartbreaking 5-4 result. The men move to 2-5 overall and 1-2 in the Golden State Athletic Conference and the women fall to 2-6 with a 1-2 conference record.
The men struggled from the get-go in their match, winning only the No. 3 doubles match before moving to singles play. Their No. 3-5 courts provided the best matches, as junior David Garcia earned Biola's only singles win on the No. 5 court. On courts three and four, freshman Derek James and senior Luke Mountain had eerily similar games. Both lost their first set 6-4, won the second 6-3, then lost in the tiebreak set. James lost his third set 6-3 while Mountain lost his 6-2. James' loss breaks his six-match win streak in singles.
For the women, the outcome was not decided until the final match. The Eagles took two of the three doubles sets, then Westmont took three of the first five singles matches to tie the overall score at four matches for each team.
It all came down to the No. 6 court, where Miyana Wagner from Westmont faced off against the Eagles' freshman Naydene Valencia. Wagner took the first set 6-1, then Valencia responded with a 6-1 win of her own in the second set to force a tiebreaker third set. Unfortunately for the Eagles, Valencia could not grab the win, and ended up losing the decisive third set 7-6.
Both teams have a few days off to rest and practice before stepping back onto the courts at the BTC on March 1 when they face off against Brigham Young University Hawaii starting at 2 p.m. for the women and 3:30 p.m. for the men.