Students must go beyond SCORR Conference
The Christian tradition of righteous indignation against injustice should be revived en masse.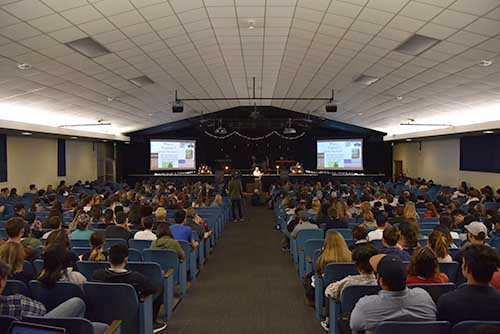 A feeling of overwhelming exhaustion and frustration embodies my mental disposition as I listen to a session speaker facilitate a discussion about racial reconciliation as part of the recent SCORR Conference Biola holds every year. The frustration I felt did not find its origin with the conference itself, nor with recent political developments, but found its home with the indifference and hostility this country holds about any discussion about racial reconciliation. I am thankful for the wonderful speakers who spoke at SCORR, but any efforts at reconciliation must begin with how we as students conduct our efforts to deconstruct the institutions and power dynamics that perpetuate structural racism in this country.
The Bible turned into a weapon of oppression and suffering
James Baldwin, the great American novelist and social critic, often said he left the pulpit to preach the gospel. Baldwin was a gay black man in a land where the Bible and the lessons of love it professed were turned into a weapon of oppression and suffering. We learn from the intellectuals, poets and artists who used the suffering and destruction they endured to battle the injustices of the time and defend what Ignacio Ellacuria, a Salvadoran theologian, called "the crucified people of history?"
I feel frustrated because we live in a country where black men and boys are gunned down in the streets by an institution historically established in this country to hunt down runaway slaves and brutally suppress unionized workers resisting the daily terror fostered by industrial capitalism. Racial reconciliation cannot be achieved in this country if those who want to make this society a better place are not enraged by the structural racism and matrix of domination that still exists in this country.
The theologian Reinhold Niebuhr once claimed that "a sublime madness in the soul" is a sign of one's ability to fight oppression, greed and wickedness. All of us, if we are ready to fight racism and xenophobia, must cultivate a fire in our stomachs. The desire to fight injustice has a long history in Christian tradition, and we must embrace it. Embraced by Jesus, this tradition of righteous indignation against injustice and love for the downtrodden must be embraced by all of us willing to engage in racial reconciliation. Whether it is ousting moneylenders from the temple or befriending socially marginalized individuals, the life of Jesus was one comprised of multiple episodes of righteous indignation.
The illusion of a post-racial society
Mass incarceration perpetuated by a global War on Drugs and a broken criminal justice system resurrected Jim Crow. Michelle Alexander writes about this in her magnum opus, "The New Jim Crow: Mass Incarceration in the Age of Colorblindness." The possible construction of the Dakota Access Pipeline is a reflection of the treatment Native American communities have felt historically in a republic made possible due to genocide and settler-colonialism. A recent article by Guernica Magazine recounts how our border policy is intentionally designed to push migrants from Mexico and Central America into the Sonora desert — increasing the number of people who die on this dangerous trek here. These are a few issues concerning race plaguing our nation today.
Many Americans believe in the illusion that the Civil Rights movement solved the historical problem of racism and the election of Barack Obama to the presidency in 2008 achieved racial equality in this country. This illusion that we live in a post-racial society is wrong and prevents us from solving the issues created by patriarchy, racism and xenophobia. There are too many problems afflicting our country today. It is acceptable to feel frustrated, but we must be willing to step outside the so-called Biola bubble and live a life of conviction and commitment to justice.