Missions Conference resurrects intent
Students prepare for changes in conference credit requirements.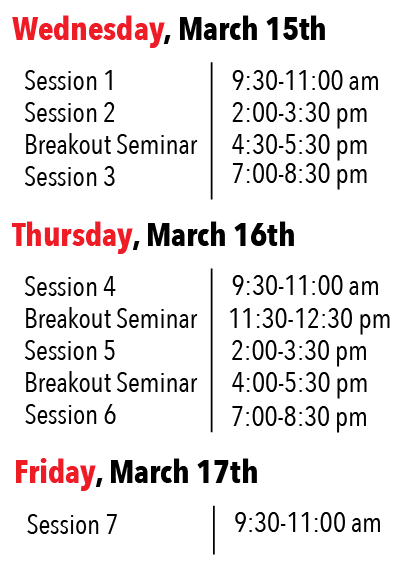 Students must attend more than one day of Missions Conference due to schedule changes allowing them to receive a maximum of four credits on the first day, rather than five.
Reminding students to spend this time with the Lord
In order to complete the conference credit requirement of five sessions, students will have to go to at least one session on Thursday, March 16 or Friday, March 17. Kristina Lowen and Colton Meo, conference directors and junior Biblical studies majors, hope the change will remind students to spend this time with the Lord rather than rushing through to receive credit.
"We think in order to do best what Missions Conference is able to do we need to create that first day to be four credits instead of five so that people could just enjoy the conference and see what the Lord is doing rather than being so focused on getting credits in and getting out," Lowen said.
The directors aim for the conference to focus specifically on the original intention of Missions Conference, including having a consecrated time for the Holy Spirit to work and draw students' hearts to the nations, according to Lowen.
"We want students to be impacted, we want them to be set free from bondage, from shame, from guilt, from even sin, and we want them to really experience this loving God who wants to not only have relationship with them but wants them to go out and bring others into that loving relationship," Meo said.
However, students also view this time as a break to go on trips with friends or simply have extra time to complete homework. Rachel Bennett, junior history major, believes the ability to complete the conference credit requirements in one day provides students with a needed extra day.
"Coming from someone who tends to go on trips during Missions Conference or Torrey Conference, it is a little disappointing because it is nice to have a day of conferences and even if you just have a lot of homework to do it's nice to have an extra day or a full weekend to be committed to those things," Bennett said.
refocus on God and realign your heart
Elsha Landes, sophomore nursing major, thinks the process of recentering on God needs a longer period of time.  
"I think it's a good thing overall because I think the purpose of Missions Conference is to refocus on God and realign your heart with where he wants you to be and that's not necessarily something we should look to get out of the way," Landes said.
Students can realign themselves with God through the worship, which Kings Kaleidoscope will lead for the second year. Bennett and Meo believe Kings Kaleidoscope's style of worship benefits a wide range of people, including how they sing hymns in a contemporary style.
"We think, in the realm of worship, [Kings Kaleidoscope] are a unique style, and I think even their style is more almost different culture friendly," Meo said. "I think more people with different cultural backgrounds can connect with their style of worship, obviously not perfectly, but I think it's a step more in that direction than years past bands."
In engaging with the sessions, students can hear from Hope Evangelical Free Church pastor Mickey Klink, CEO of the Lausanne Committee for World Evangelization Michael Oh, chair of Biblical and theological studies department Erik Thoennes, Vision Nationals director Arjuna Chiguluri and author Trillia Newbell in the main sessions.