Last Chance Qualifier provides successful outing
Lyndee Dawson and Hannah Hunsaker qualify for the Indoor Championships at a rare Biola-hosted track meet.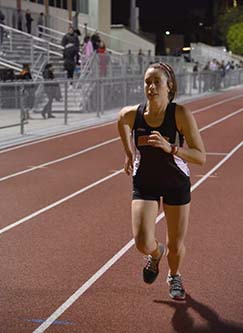 Biola may be blessed with many wonderful facilities, but a full-size track is not one of them. Regardless, that did not stop the Eagles' track team from hosting the Last Chance Qualifier at Al Barbour Field on Feb. 18. Athletes from Biola and Vanguard University competed to qualify for the National Association of Intercollegiate Athletics Indoor Track and Field Championships.
This meet came about because the Pomona-Pitzer All-Comers meet, scheduled to take place on Feb. 18, got canceled, and head coach Sean Henning wanted to make sure his runners had a replacement chance to qualify for the Championships.
That chance did not go to waste, as two runners from the women's team qualified in the mile run. Senior Lyndee Dawson and junior Hannah Hunsaker qualified in the 'A' and 'B' standard, respectively. Dawson finished the 5,280 feet in a time of 5:04.98, beating the 'A' standard by just over three seconds. Hunsaker crossed the line in 5:10.19, just under two seconds faster than required by the 'B' standard.
The women's team had a very successful meet, as a Biola athlete won every event that had at least one Biola and one Vanguard athlete in it. On the men's side, they won all but two events they participated in.
The track team has about a week and a half to train for the Indoor Championships, as they will fly out to Johnson City, Tennessee for the first day of competition starting on March 2.