Bird-of-prey shootout at Biola tennis center
Biola's tennis teams lost to the Holy Names Hawks, with the women losing 7-2 and the men 5-4.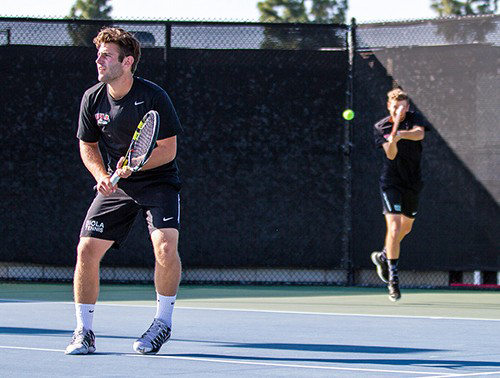 Biola's men's and women's tennis teams returned to the Biola Tennis Center on Feb. 20 for a matchup against Holy Names University, a National Collegiate Athletics Association Div. II school. Both teams fell to the visiting Hawks, with the women losing 7-2 and the men dropping their third consecutive tournament by a score of 5-4. The women fell to 2-5 on the season and the men dropped to 1-4.
On the women's side, freshman Tinisee Kandakai had the best performance, winning the No. 5 singles spot 7-5, 6-4 for Biola's solo single win as well as teaming up with sophomore Katie Boesl for a 8-2 win in the No. 3 doubles match.
Freshman Lauren Lee came the closest in another singles match, as she forced a tiebreaker third set after dropping the first set 6-3 then winning the second 7-5. Unfortunately, she could not complete the comeback and lost the tiebreaker 6-4.
The men had to face yet another heartbreaking loss, as it came down to the final two matches to decide the winner. In doubles, the duo of junior Lucas Lee and Luke Mountain fought valiantly for their 9-8 win in the No. 1 spot, going all the way to a super tiebreaker, which they won 7-2.
The junior squad of Philip Westwood and Milos Zoric took their No. 2 match in easy fashion, 8-3.
Holy Names won the bottom three singles games, but the Eagles won the No. 1 and 3 spots, courtesy of Lee and freshman Derek James, respectively. Lee's No. 1 match proved a hard win, as he lost the first set 6-4 then win back-to-back sets by a score of 6-3. Westwood played the No. 2 spot, and he also went to three sets, before ultimately losing 4-6, 6-4, 2-6.
The women's next match comes on Feb. 25 against the Westmont College Warriors at 11 a.m. The men have a chance to shake off their 5-4 curse on Feb. 21 when they face the Chapman University Cougars at 1:30 p.m.