Weather worries golfers
Biola's men and women's golf teams battled the elements in first spring tournaments.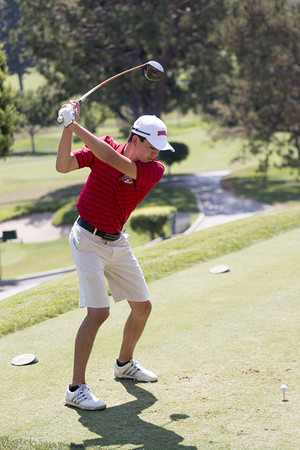 Rain greeted both Biola's men and women's golf teams at their respective tournaments on Feb. 6-7. The men competed in the Fujikura Invitational hosted by CSU San Marcos, while the women traveled to San Diego for the Point Loma Nazarene University Reach 2017 tournament. The men finished in 15th of 15 teams, while the women saw a little more success, coming in ninth out of 15.
unprepared for the elements
"We came into it a little unprepared for the elements. We didn't think it was going to rain that much and it rained a lot," said sophomore Austin Bishop. "[But] we showed some good spurts of good play."
Day one for the men featured consistent scores, with their second round only adding one stroke to the first. Bishop led the Eagles with an 81 and 79 for the first two rounds, followed by freshman Kaden Page with an 83 and 80, then junior Samuel Shih, who carded an 87 and 80.
Page took the spotlight in the second day, as the freshman shot a 75, four strokes better than the closest Eagle. This score came in Page's first tournament where he has counted for Biola, as he had one previous tournament where he competed as an individual.
"He struggled a little bit when he first got here, like adjusting to the new team and stuff," Bishop said. "But over break he really changed a lot in his swing, made really good improvements, was working really hard, and that really showed in his play that final round."
Freshman bright spot
The women also faced cold and rainy conditions and, just like the men, a freshman athlete stood out. Bella Larson shot an 80 on the first day, a new career-best for the freshman, after averaging an 86 in her fall tournaments. Freshman Tori Roeske and sophomore Mary Karnazes rounded out Biola's top three golfers with scores of 83 and 85, respectively.
On day two, Roeske and sophomore Jenny Zhang performed best, shooting an 81 and a 78, respectively. Larson dropped down to an 88, but she still shot third-best for Biola, helping them to a solid ninth place finish.
The women's team next has the CBU Women's Invitational on Feb. 20-21, while the men will head to the desert for the ACU Firestorm Spring Invitational on the same days.