Indigenous communities resist climate change
Water protectors at Standing Rock successfully resist Dakota Access Pipeline.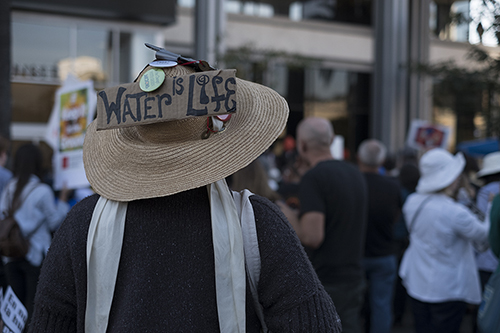 The "water protectors" — brave men and women who congregated from all corners of the country at Standing Rock, ND — achieved a small victory as, according to the United States Army website, Army's Assistant Secretary for Civil Works announced on Dec. 4 they "will not approve an easement that would allow the proposed Dakota Access Pipeline to cross under Lake Oahe in North Dakota." We have a moral imperative to pressure the oil industry and the government accountable for climate change, not only for us, but also for our children and grandchildren. It does not matter if we fail in our movement to stop climate change. People risk their health and even their lives to resist not because they can win, but because it is almost unimaginable for the political and financial elites to have the final say on our fate.
The power in unity
The fact that water protectors were able to stop a powerful company financed by a complex network of banks and financial institutions displays the collective power of people uniting together to challenge violence. American writer Rebecca Solnit wrote a column in The Guardian, explaining how climate change is "extreme, horrific, longterm, widespread violence." It is, after all, a form of violence perpetrated by energy companies and the people who profit from the environmental exploitation of the Earth, according to Sara Nelson, a doctoral candidate at the University of Minnesota. Climate change will increase food shortages and displace people, forcing people to fight over limited resources and land. American writer Rebecca Solnit wrote a column in The Guardian, explaining how climate change is "extreme, horrific, longterm, widespread violence." Companies such as Exxon Mobil and British Petroleum will continue destroying the environment in pursuit of increasing their profit margins.
Standing Rock proves what energy companies are willing and able to do to ensure their profits are not affected. The use of dogs and militarized law enforcement units to intimidate protestors is evidence of this viciousness, and this happened in a democratic country where most people do not have to live in fear of the state or powerful non-state actors. Just imagine what energy companies will do in countries where the rule of law is not always enforced or established as in the United States.
Exploitation and displacement
I traveled to Colombia over the summer with an activist organization called Witness For Peace in order to learn about the exploitation and displacement of indigenous communities by the Cerrejón coal mine — one of the country's largest open-pit coal mines. The mine is operated by a consortium of subsidiary companies owned by large western energy companies. In a country torn by drug cartels and civil war, it is not uncommon for oil companies such as BP and Ocensa to illegally hire paramilitary forces to intimidate, displace and kill environmental activists and union leaders who speak out against exploitive company behavior or environmental damage caused by extractive practices. This is the face of the oil industry — powerful corporations using any means necessary to protect their bottom line.
Energy companies view the environment as a commodity. This is partly the reason why company executives and members of the managerial teams are able to sleep peacefully at night, justifying their work as an inevitable and necessary ingredient of the globalized market economy. I remember meeting with the management team of the Cerrejón coal mine and members of affected indigenous communities, when a fellow team member told me how the company manager sitting next to her watched soccer on his phone as community members angrily petitioned their grievances to the company. An article by Telesur shows how over 4,770 children died of malnutrition in La Guajira, the area affected partly by three years of drought and the aforementioned coal mine's operation.
A need for redevelopment
I saw the company lie as they diverted rivers and tributaries used to sustain communities for mining operations. Companies do not care about the people, especially if they are disenfranchised and poor Afro-Colombian and indigenous groups. According to The Guardian, Exxon Mobil knew about climate change in 1981, and were warned about it in the 1970s, but actively denied it to protect their profits.
As citizens, we must pressure our government to invest our national resources in developing our green energy infrastructure in order to alleviate our dependence on fossil fuels and the extractive industry whether its mass civil disobedience or lobbying action. We have to understand that climate change is directly correlated to the growth of terrorism and violence throughout the world. According to National Geographic, "A severe drought, worsened by a warming climate, drove Syrian farmers to abandon their crops and flock to cities, helping trigger a civil war that has killed hundreds of thousands of people."
We also have to sit down and listen to indigenous groups — the communities most connected to nature. Every country in North America — Mexico, Canada and especially the United States — continues to marginalize and exacerbate the historical oppression and settler-colonialism of indigenous people for the insatiable and unsustainable demands of the fossil-fuel dependent capitalist economic system. An article by Jacobin magazine shows the the destructive nature of Canada's oil and petroleum industries.
I am not entirely confident that we will be able to stop climate change. However, we must continue to fight the carbon barons and support our brothers and sisters protecting our earth. As Christians, we should never let destruction and death have the final say over our fate.