Construction adds travel time
Road construction at local intersection hinders students' commute.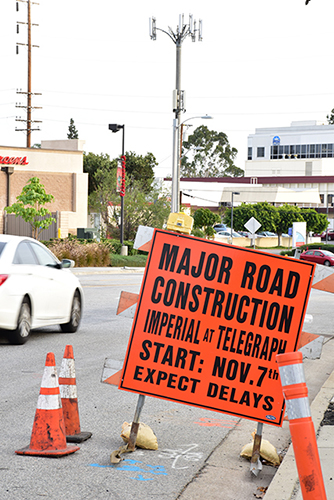 As construction at the local intersection of Imperial Highway and Telegraph Road increases the busyness of the local area, commuters' travel time to and from campus has increased as well.
"It's kind of frustrating, honestly"
The city of La Mirada partnered with Sequel Contractors last month to remove the pork chop islands, the name for the rest areas for pedestrians between the right-slip lane and through-travel lanes. This will make room for three, rather than two, lanes all the way through the intersection as well as the addition of a turning lane next to Walgreens. After the planning process started in the early 2000s, the end cost of the project comes to $620,000, according to La Mirada public works director Mark Stowell.
Construction includes the removal of the islands and temporary limited access to the sidewalks. Some commuter students who walk instead of drive, such as senior English major Alexis Bolden, have experienced difficulty navigating the construction area to their homes.
"I don't have a car so I have to walk past it and it's not a pretty sight," Bolden said. "It's kind of frustrating, honestly."
avoiding further interference
The construction began in approximately mid-November and Stowell expects to finish by the middle of February. The construction crew only works on weekends to avoid further interference with the nearby busy intersection of La Mirada Boulevard and Imperial Highway.
Even though active work only occurs on the weekend, commuter students still face the struggle of additional travel time every day. Junior English major Jacob Sanchez prefers to take a different route during the rush hour to avoid the intersection altogether.
"I come to school at like 6:30 [a.m.], but if I'm not coming at that time, I usually just drive all the way around or take a different way," Sanchez said.