Music regulation revisited: responses a year later
Students voice their opinions on coffee shop rule.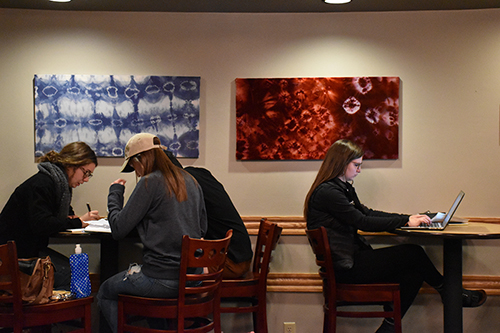 UPDATED: DEC. 8 AT 12:15 P.M.
Last year, administration implemented a rule which ensured proper payment of licensing fees for music in Biola's coffee shops. As music is now limited to specific student-suggested Pandora stations, it continues to draw praise and criticism alike.
Administrative prohibition
According to University Communications and Marketing, in fall 2015, administration discovered employees using personal devices to play music not licensed for public use. After purchasing a license to Pandora for Business, administration prohibited employees from playing their personal music by removing the audio jacks to which the coffee shops previously had access for the purpose of playing music. The Pandora for Business service provides preset online radio stations from which employees may choose genres of music, but cannot select individual songs. This service initially only included Christian genres, but after consulting Student Government Association, administration expanded it to include some secular stations. Since the rule's execution, the managers of the Talon, Heritage Cafe and Common Grounds have had varied reactions to the rule, as have their customers.
Some have viewed administration's decision — particularly its choices regarding stations — as a representation of Biola's image of a Christian university. Senior kinesiology major and a manager of Heritage Cafe Adrian Galindo believes the rule benefits customers and makes choosing what music to play an easier decision.
"I think [the rule is] a lot more convenient," said Galindo. "And you don't want to offend people when they come in. That doesn't make any sense."
A detrimental effect
Others have expressed frustration with the rule and see it as detrimental to the atmosphere of the coffee shops. According to junior education major and Common Grounds manager Mackenzi Galla-Rini, the implementation of the rule affects the shop's mood. During its initial months, customers expressed disapproval of the change in music due to what complaints note as a negative change in ambience. Galla-Rini also noted a detrimental effect on the workplace atmosphere, though she stated that since last fall, employees have become more acclimated to the change.
Though some students have voiced their opinions in favor or against the effects of the rule, a portion has remained relatively neutral. Ji Lee, senior biblical studies major, emphasized the importance of culture.
"I'd prefer that it's all Christian [music], but at the same time I don't think we need to create a bubble," Lee said.
A divisive matter
The current mix of Pandora stations, containing both Christian and secular genres, may reflect this balance. However, sophomore communication studies and theatre major Shannon Rossilli stated she has noticed an increase in Christian music being played since last year.
"I just think it's a little over-the-top to have a rule about what music we can play, but then at the same time, people might not use their best judgement," Rossilli said.
It has been roughly a year since the establishment of the rule. Yet as it remains a complicated matter, it has produced diverse responses from students.
"It's a really hard situation," Rossilli said
About the Writer
Christian Leonard, Editor-in-Chief
Christian Leonard is a junior journalism major whose affinity for chickens is really getting out of hand. He can often be found singing in the office, wrapped around a book, or arguing for the classification of cereal as a soup.

[email protected]



I came to Biola a nervous freshman, not really sure what I wanted to do during my time at university. Years of prayer and waiting seemed fruitless, until an academic counselor recommended I contact the Chimes, since I had shown a...