Talent, coaching and chemistry project promising tennis season
Spirits are high on the men and women's tennis teams as they look forward to their upcoming season.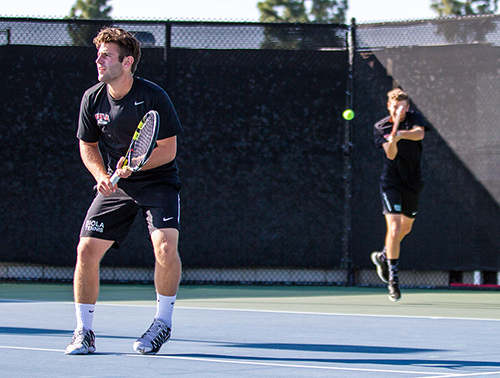 As the new head coach for both the men and women's tennis teams, David Goodman has managed to turn 23 individual athletes into a single cohesive unit. All the athletes seem to be confident Goodman is the best thing that could have happened to Biola's tennis program.
A cohesive units
Goodman's presence, along with the best friends and dynamic duo junior Lucas Lee and senior Luke Mountain, 2016 top-10 doubles team in the country, according to the National Association of Intercollegiate Athletics, gives Biola hope this upcoming spring will be their best season yet. Ever since Mountain and Lee arrived at Biola, they have managed to help break the school's winning record every year, with last year's overall season record ending at 11-11.
The secret for the men's tennis team is not only obvious talent, but also incredible chemistry. All of the men's doubles teams are roommates, including juniors Michael Vartuli with David Garcia, and juniors Phillip Westwood with Joe Turnquist, creating team compatibility that is hardly ever seen.
Mountain said that team activities like team group outings and Goodman's effort to create fun competition in preseason workouts have contributed to team chemistry that results in great play on the court.
Substantial differences
Jordyn Cooley, senior on the women's team, explained that previously the women's team did not have a set practice time, and as a result, lacked team cohesiveness, competing as a team of individuals. Regardless, their record steadily climbed, going from 3-18 in 2014 to 6-16 in 2016. With the new program of daily all-team preseason practices, Cooley says the difference is already substantial.
"The team chemistry is beyond what I expected," Cooley said.
Higher expectations
This is exactly Goodman's plan for both the men and the women. Goodman brings experience from previously coaching the National Collegiate Athletic Association Division II tennis team at Azusa Pacific University. He has placed higher competitive expectations on both teams but also focuses on relationships.
"Hanging out and doing fun things with them helps us have fun outside of just playing tennis… It helps us bond as a group and feel comfortable with each other," Goodman said. "Obviously, starting season and you're coaching, you want to feel comfortable with those people and you want them feeling comfortable on the other side, receiving what you're telling them."
Although still two months away from the upcoming tennis season, Goodman has provided good reason to believe that more records may be broken