Broncos buck off Biola
Biola volleyball's time as a NAIA program comes to an end with a loss to Hastings College.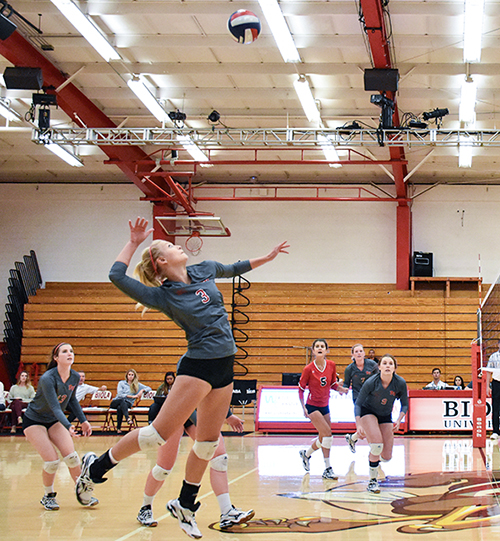 The road to become National Association of Intercollegiate Athletics champions has come to an end for Biola's volleyball team. They lost in the round of 16 on Dec. 2 against the Hastings College Broncos three sets to none. Hastings went on to win the tournament, marking the first championship for their volleyball program, while the Eagles headed home with an overall record of 26-11.
A valiant fight
Biola fought valiantly throughout the match, especially in the first and second sets. Hastings did their best to keep the score close as they committed 10 service errors in the first set alone. However, their offense could not be stopped and they finished with a 25-20 win thanks to an awesome .393 kill percentage.
The second set proved even closer, as Biola lost by only three points. The 25-22 loss featured an improved Eagles offense, as they upped their kill percentage from .000 in the first set to .152. However, Hastings had a match-high 15 kills that game, which Biola could not match.
The final set stayed close for the first half, but then Hastings won 11 of the final 13 points to put the nail in the coffin and take the straight set win. Sophomore opposite Karly Dantuma and freshman outside Brooke Watts led the Eagles with seven kills a piece in the match.
Bright future ahead
This season has definitely been tough, yet provided plenty of positive takeaways for the young team.
"This season was a time of growth for our program with the addition of 10 new players, and it has been a blessing to be a part of it," Dantuma said. "I think that everyone really did an amazing job stepping up and taking on roles that they were perhaps not entirely comfortable with before the season."
One positive aspect about the youth of the team is that they have a program set up with talent for a while. Biola will only be losing two seniors this year — middle blocker Olivia Sorensen and setter Tori Moons. Provided the Eagles can stay healthy for next year, they should have no trouble filling those voids on the team.