The Chimes staff unearths fall favorites
Staff members chooses their favorite albums from this semester.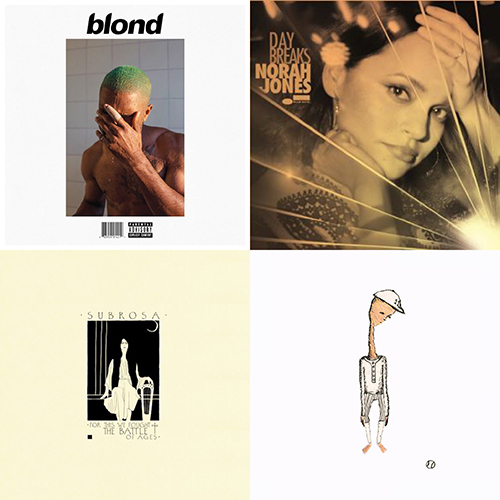 In light of the release of many incredible albums in many different genres during this past semester, we here at The Chimes provide albums we jammed to throughout this year. Although differing greatly in style, these projects tap into undeniable passion and a diverse array of emotion.
Max's Pick:
Subrosa — "For This We Fought the Battle of Ages": In the murky waters of sludge metal and doom metal, Subrosa rises to prominence with refreshing arrangements and emotional breadth. Over a seismically heavy foundation of detuned guitars and powerful percussion, atmospheric folk music and experimental dreariness seep through the wall of sound to a distinctively compelling effect. Guitarist Rebecca Vernon's vocals find perfect support from bassist Levi Hanna and violin duo Sarah Pendleton and Kim Pack, delivering unadulterated pain through vulnerable delicateness. Said violinists use their instruments in ways rarely attempted, providing alien soundscapes and hellish atonality as easily as drowsy melodies. No matter how crushing this album gets, placidity ultimately wins the day.
Kyle's Pick:
Frank Ocean — "Blonde": Four years after his earth-shattering debut, "channel ORANGE," Frank Ocean finally released his long-awaited follow-up, delivering listeners transcendent art that defies articulation. Beneath the surface of this captivating release, Ocean conjures a cathartic phenomenon by providing listeners completely private commentary that Ocean himself may never fully disclose. Yet "Blonde's" earnest allure acts as a vessel for indescribable pain. Ocean's sophomore release solidifies him as a cryptic yet charming confidant, navigating through the spaces between intimacy and seclusion, the absolute and the surreal. "Blonde," an unorthodox R&B masterpiece, embodies the soundtrack for a destitute glare in the bathroom mirror at 5 a.m. when all hope seems lost, beauty seeping from beneath the surface.
Brooks' Pick:
What Moon Things — "SWIM": In a year of momentous albums, New York's What Moon Things quietly self-released "SWIM" back in September. An incredible showcase of dissonance and emotion like none other, the tape ebbs and flows with raw confessions of drunken stupor and somber remorse. Exemplified in tracks such as the devastating "Dead Pixie," the shared songwriting of Jake Harms and John Morisi cuts as starkly poetic, formulating brilliant wordplay from both the heartbreaking and absurd.   Blending cracked vocal deliveries and aggressive walls of sound with sections propelled entirely by drum programming that does not bother shying from trap and hip-hop influence, "SWIM" pushes genre boundaries in ways that have not been properly explored before. What Moon Things is a band the world needs, even if the masses remain negligent.
Grace's Pick:
Norah Jones — "Day Breaks": Following her tag-team albums with Green Day's Billie Joel Armstrong, Danger Mouse and Jack White, Norah Jones returned to her roots in "Day Breaks," released on Oct. 7, 2016. Listener favorite "Tragedy" harkens back to Jones in her younger "Come Away With Me" years. "Peace" and the title track soften and slow the album's mood and tempo — a shift that cues a sense of reconciliation between the leading piano keys and the drum's steady foothold. Ultimately, "Carry On" concludes with warm wishes for listeners to journey onward and upward in life: "yet peace surrounds/so carry on/into the quiet unbound."