Eagles soar, records fall at La Verne Invitational
Freshmen break school records as several swimmers qualify for nationals.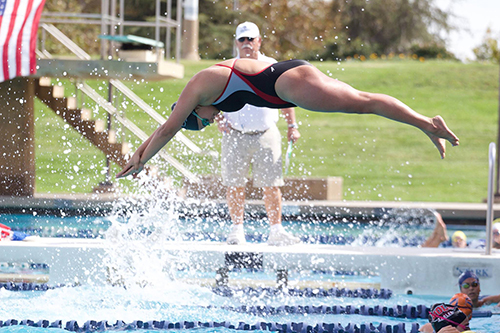 The countdown to Christmas is on, but Biola's swim team had a different date in mind heading into December. The La Verne Invitational, held from Dec. 3-5 at East Los Angeles College, served as a test for how far the Eagles have come since the beginning of the fall season.They passed with flying colors, recording a whopping 31 new qualifying times for the National Association of Intercollegiate Athletics championships in the spring. Additionally, freshmen Rachel Stinchcomb and Raymond Kam each set a new school record on the final day.
the biggest splash
The women rode an all-around strong effort to finish fifth in a field of nine teams. Lisa Tixier proved the only Eagle to win a race in each day of the invitational, with victories in the 200-yard individual medley, 100-yard butterfly and 100-yard freestyle. Junior Samantha Dammann also had a very productive weekend, making nationals cuts in the 200-yard individual medley and 100-yard butterfly as well as finishing third in the 200-yard butterfly finals.
Stinchcomb made the biggest splash of the invite on the women's side when she broke one of the Biola swim program's longest-standing records during the preliminary rounds of the 100-yard backstroke on Dec. 5. Her time of 58.47 seconds surpassed a mark that had stood since 2010. Stinchcomb also joined Dammann and Tixier in qualifying for the 200-IM on Dec. 3.
The men also made several new cuts, led by a trio of junior Tom Franicevich, senior Michael Severi and freshman Andrew Benson. After all three qualified for nationals in the 200-yard freestyle on Dec. 4, they followed that up the next day by finishing fourth, fifth and sixth, respectively, in the finals of the 100-yard freestyle. Benson also qualified in the 500-yard freestyle, while junior Andrew Corl made his cut in the 100-yard backstroke. Overall, the men finished fifth out of seven in the team competition.
Kam finally broke through
After weeks of falling just short, Kam finally broke through and punched his ticket to nationals with qualifying times in the 100-yard breaststroke and 100-yard butterfly. An unexpected highlight of his weekend came when he broke Charlie Nanfria's 2015 school record in the 200-yard butterfly, an event Kam had not participated in since his freshman year of high school.
"I guess I found a new event to swim," said Kam. "It's such an honor to have my name in the Biola record books and be a part of that legacy."
The Eagles will get a long hiatus before kicking off their spring slate on Jan. 21.