Biola opens doors to elected officials
To improve government relationships, administration hosts elected officials on campus.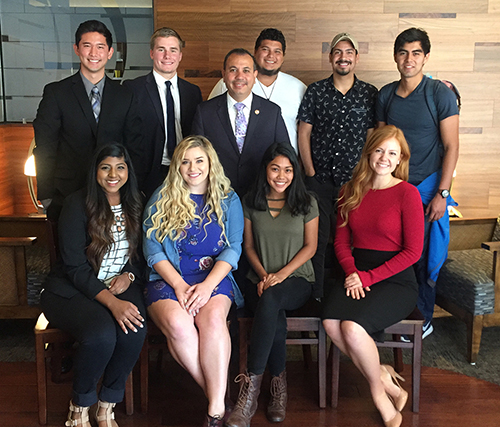 As political climates continue to change in California and around the United States, Biola has invited locally elected officials to campus to begin building relationships with students and administration.
Understanding what their passions are
Though elected officials have previously received invitations to campus, administration and the officials did not continue to further the relationships. However, after Senate Bill 1146, there came a shift in the government relations landscape, according to director of communications Brenda Velasco. California Senator Tony Mendoza and California assemblymember Evan Low visited campus throughout the fall semester on separate occasions to meet with President Barry Corey, an admissions representative and students.
"The biggest thing has just been better understanding what their passions are and allowing them to better understand what ours are," said Jason Muehlhoff, senior political science major and public affairs coordinator. "We haven't had great communication in the past with elected officials, so seeing routes where we can come together to further the good of society, or at least the community in our area, has been probably one of the best parts of it."
As elected officials keep coming to visit campus, the opportunity for students to work with those in government and vice versa continue to arise. When Mendoza visited, he heard from administration members, Student Government Association members and first generation students.
equity on college campuses
"I just really appreciated his desire for equity on college campuses and… he was very humble and really wanted to listen to students [and] know the student experience," said Jessica Snow, senior business and Bible major and SGA president.
A first generation college student himself, Mendoza showed his deep care for the students, according to Muehlhoff. Overall, the relationships built with elected officials who visit campus or who Corey meets with across the U.S. have become the focus.
"It's valuable — just in building relationships with these elected officials — and ultimately, so that we can be a resource to each other, so we're not necessarily just asking or wanting them to learn about Biola and what is Biola doing, but we also want to learn about what are they doing," Velasco said. "There are a lot of things that we agree on and we actually have the same heartbeat for some of the issues, the same issues that they do."
In continuing to reach out to elected officials, Biola hopes to show they care by offering help in any way they can, including the resource of students for work. Snow also thinks it shows how Biola does not exist in isolation.
"The importance of elected officials coming on campus is just that building of relationship and seeing that Biola isn't just this bubble where we continue to do our little Christian thing and don't interact with the world. It's important that we have our voice and our love and our care going out to interact in all spheres," Snow said. "And I think if we're going to say that to students when they get their degrees and say, 'Hey, go think biblically about everything,' we should be a part of doing that as a university now and modeling that for students."