Eagles cool off in National Tournament
After a historic regular season, the women's soccer team ends 2016 without a championship.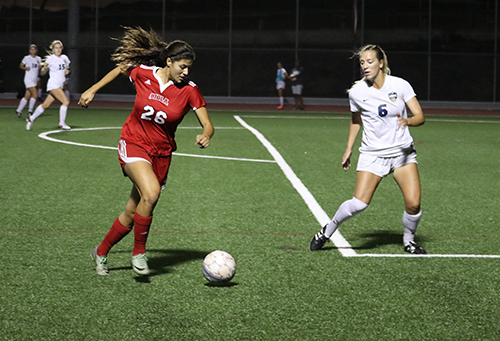 After the highest highs and lowest lows, the women's soccer team wrapped up their 2016 campaign in the opening round of the National Association of Intercollegiate Athletics National Tournament. Despite falling short in both the Golden State Athletic Conference Tournament and the National Tournament, the Eagles won their way to the record books during the regular season.
Nearly invincible defense
At the end of their 19-game season, the Eagles found themselves in second place with their undefeated regular season record. The only blemish on their 14-win season came against the Menlo College Oaks, where matches on both Sept. 24 and Oct. 27 ended with a tie. Regardless, with a nearly invincible defense and a freshman phenomenon in goalkeeper Christina Rodriguez, the Eagles' backline allowed only nine goals during the regular season, a new record for the women's program. Furthermore, the team set new program records with 11 shutout victories and nine wins at home. Not to mention, they clinched the first undefeated regular season since the program began in 1992.
In the end, their two ties brought them down in the conference standings as the Vanguard University Lions took first place in the GSAC. As a result, the Eagles had the No. 2 seed heading into their seventh consecutive conference tournament. After besting the Westmont College Warriors in the semifinals, the Lions handed the Eagles their first loss of 2016 as they fell one win short of the conference championship.
A talented senior class
Regardless, the Eagles earned a spot in the National Tournament for the second year in a row. Playing at Al Barbour Field, the Eagles faced the Northwest University Eagles in the opening round of the National Tournament. However, Northwest outshone Biola who allowed season-high two goals. Serving Biola their largest defeat of the season, Northwest eliminated the Eagles from the tournament and ended their season.
As the sun set on their 2016 season, the Eagles bid farewell to an extremely talented senior class. The combined efforts of midfielder Jessie Burns, defender McKenna Marmelstein, forward Taylor Venegas, defender Kayla White and midfielder Mariah Ziemer won more than 50 games during their four seasons playing at Biola.