Biola shines for Christmas
The annual Christmas Tree Lighting adds new worship elements.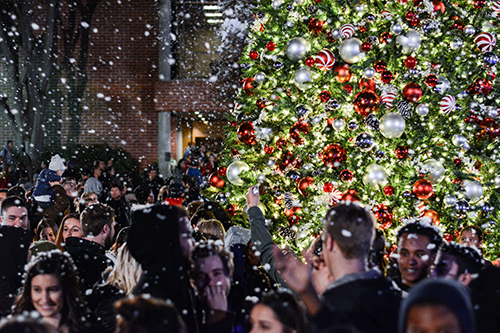 In this year's annual Christmas Tree Lighting, students, parents, alumni, faculty and community members gathered on Metzger Lawn adding a dance routine and adapted Christmas songs to welcome in the Christmas season on Nov. 30.
Welcoming the Christmas season
As the holiday season approaches, Biola celebrates the birth of Christ by viewing worshipful dance, lighting their Christmas tree, singing Christmas worship music and enjoying Christmas activities. For a majority of the audience, candles were again not used, though towards the end alumni and student leaders circled the audience while holding candles.
The evening started with the handbell choir performing classic Christmas tunes such as "Jingle Bells," "Noel" and "Glory to the Newborn King"on the steps of the library.
"The bells have been around since the early '80s and we've just recently revived them, so it's pretty exciting because it's an odd, unique type of ensemble," said Brooke Brooks, director of the handbell choir and office manager for the Conservatory of Music.
Worship and celebration
The worship band officially opened the night by performing an adaptation of "Joy to the World" as dancers dressed in red worked their way into the audience.
As the dancers faded into the audience and the song came to a finish, President Barry Corey welcomed everyone. After asking audience members wearing red and green to stand up, Corey then brought four students to the stage to congratulate them on their audacious Christmas outfits. The four men wore red or blue suits with Christmas designs imprinted on the entire outfit.
The worship band continued performing Christmas worship songs with the message of Christ's birth and according to audience members, the favored song of the evening was "Noel," which started with a solo singer and piano accompaniment.  
"My favorite part was that one song 'Noel.' Her voice was so amazing, I loved it. The music was really beautiful," said Julia Zwayne, La Mirada community member.
Talbot students Lara Hurlburt, Ayelet Henderson and Julius Ojewole read the prophecy of the Messiah's birth in between songs in English and in Hebrew.  
A shining light
Vice president of advancement Adam Morris introduced the last song of the night, "What Child is This," and explained how it weaves into Biola's mission of being a shining light in an ever-changing world. Then, a line of students and alumni holding candles surrounded the audience.
"What a blessing it is to be able to participate in something that, as President Corey has said, has been going on for upteen years. We put the teen in upteen," said Di Patterson, alumna. "With our smiles and our candles we got to affect all of these people for the good."
Bulus Galadima, dean of Cook School of Intercultural Studies, then read the story of the birth of Christ, and bubbles looking like snow began to fall.
"It's so magical. We're from Guam so we've never seen snow. This is not an occurrence in Guam," said Joanna Rhee, sophomore English secondary education major, who attended with other students from Guam. "Christmas is the best and I wanted to cry when they lit the tree."