Eagles fly into playoffs
Biola volleyball begins their final NAIA tournament run with two wins and a loss.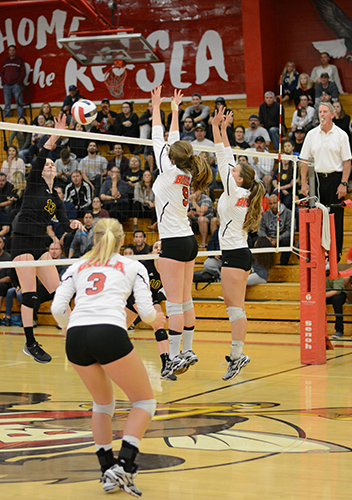 The volleyball team entered the playoffs with a record of 23-9 and a No. 21 seeding, according to the final National Association of Intercollegiate Athletics coaches' poll. That meant they had to play in the opening round on Nov. 19, when they faced La Sierra University at home and won 3-1 to advance to the final tournament site in Sioux City, Iowa. The Eagles beat MidAmerica Nazarene University on Nov. 29 but lost to Lindsey Wilson University on Nov. 30 in the first two matches of pool play.
A five-set victory
Biola faced the La Sierra Golden Eagles once before this season, at the Hope International Labor Day Tournament on Sept. 2, where Biola grabbed a five-set victory. This time, the Eagles from La Mirada knew what to expect and executed their gameplan to perfection, only dropping the second game. Sophomore outside hitter Hannah van Warmerdam led Biola with 16 kills as Biola won their three sets by an average gap of 11.6 points.
In the first game of national tournament pool play, Biola faced No. 13 MidAmerica Nazarene and walked away with the straight set upset. However, MidAmerica made Biola work for every point, as all of the sets were decided by three or fewer points, and the first two sets were decided by extra points. Sets one and two both ended 27-25 in Biola's favor, and the Eagles took their largest victory in the third with a 25-22 win.
A tough opponent
The most recent game took place on Nov. 30, when Biola encountered their toughest postseason opponent so far, the 33-1 Lindsey Wilson Blue Raiders. Biola grabbed the first set 25-23, but remove could not stop the Blue Raiders' offense over the next three sets. The Eagles finished the match with a .088 kill percentage and a massive 13-4 discrepancy in blocks. They did finish with seven aces compared to four for Lindsey Wilson.
The final match of pool play starts on Dec. 1 at 7 a.m. when Biola faces off against the Tabor College Bluejays. Biola needs to win that match in order to advance into the bracket play of the top 16 teams that begins on Dec. 2.