$169,653 raised towards student affordability
All students will benefit from money donated on Giving Tuesday.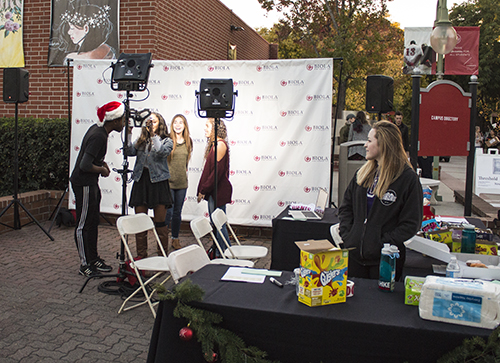 For the second year, Biola participated in Giving Tuesday to raise money for student affordability, with a total of $169,653, according to the Biola University website.
Expense relief
This year the money will go into the Biola Fund, a general fund which takes expenses off of every student's tuition, usually amounting to around $3 million, campaign marketing manager Chris Johnson said. In comparison to last year, where the campaign raised $124,066 and 124 students received $1,000 scholarships, this year amounted to $169,653 and all students will benefit in the 2017-18 school year.
"I think it's a beautiful theme that just allows you to see different facets of students," said Megan Collins, junior Christian ministries major and East Block Senator. "Because at Biola we really do encourage diversity of all different kinds, so I think it's awesome to make something applicable without just saying everyone's the same, but allowing them to be who they uniquely are and saying, 'Hey, we want to meet you right where you're at.'"  
While students receive the benefits from the raised money, they could also give money to the fund. However, students did not have a goal to reach throughout the day, despite a goal of $5,000 last year.
"We'll continue to ask students to give whatever they can, but also participate by sharing and talking about their experience here," Johnson said. "We've seen every year that when students participate in some way that donors really like that. And specifically last year we saw when students gave to support other students that donors really found that compelling and motivating for them."
doing what they do best
Students, parents and community members could participate by giving online or stopping at the bell tower. Jerson Saravia, freshman psychology major, gave to help lower the cost for him and other students.
"I wish I had more just to give to all the students because mainly, if we're all seeking God and seeking education at the same time, then that's a plus for all of us," Saravia said.
Another student, junior music major Jonathan Medina, agrees in helping to lower the cost for everyone due to the high expense of Biola.
"I think Biola does need to be available to all students, so if all of us try to give back it's not only going to help others in the long run but it'll probably… have an impact sooner rather than later," Medina said.
With the money going towards every student's tuition, this Giving Tuesday stands out amongst other universities, such as Whitman College who raises money for supporting athletic programs.
"I think now more than ever in our political climate, in our cultural climate, to have a university that stands for its convictions in a way that's both courageous and compassionate is so vital," Johnson said. "And I think Giving Tuesday is such a great representation of both the convictions students have to be here, but also the courage they have to live and do what they do best."