Committee assesses gender equality
President Barry Corey starts a committee advocating for women faculty and staff.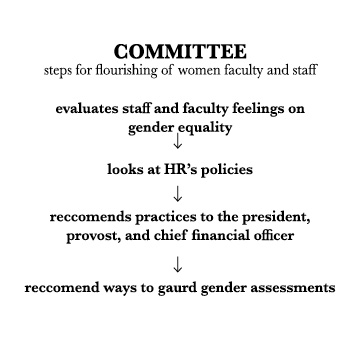 President Barry Corey commissioned a new University Committee on Women to conduct a gender climate survey to ensure women faculty and staff flourish at Biola.
A greater focus
The Committee for Women Faculty focused only on faculty achieving fairness in the workplace. However, there was not a committee which provided the same kind of attention for staff, which includes Biola employees who are not professors.  Therefore, Corey established the University Committee on Women in February to focus on both women faculty and staff. The newly commissioned committee, which includes male and female faculty and staff, focuses on assessing gender equality for women in the workplace.
"[Corey] commissioned us to look at, 'What does it mean to have a university committee for women?"  said Susan Kaneshiro, consultant to the University Committee on Women and associate director of Human Resources. "He just wanted to make sure that it was a healthy, flourishing environment for women at Biola."
Gender climate assessment
Their first order of business will be to facilitate a gender climate assessment by performing a survey study, which assesses both male and female faculty and staff.
"President Corey wants to know the pulse of the employees and what is happening, so that is one of our key directives," Kaneshiro said.
According to provost and senior vice president Deborah Taylor, the last gender climate study took place in 2008 and a new one will be done this year to evaluate how much has changed.
"If not much has changed, then we really need to do more to change that," Taylor said.
The committee evaluates how staff and faculty feel about gender equality. Once they have assessed the atmosphere on campus, they will look at HR's policies to determine if they are equitable. They will then recommend practices to the president, provost and chief financial officer, which will allow HR to hear women when lobbying for themselves. Finally, they will recommend ways to guard gender assessments.
Unrealized prejudices
Dorothy Calley, assistant professor of communication studies and chair of University Committee on Women, described the belief system and attitudes generations have passed down. She challenges people to think about what our culture has taught us about the type of work women often do or perhaps should do. She points out sometimes people maintain prejudices without realizing it.
"Sometimes culture can be like the air that we breathe, so we don't even notice that these things are happening," said Calley.
The committee noticed that Biola's culture has led to benevolent sexism where women's exclusions from opportunity is confused thoughtfulness.      
"So that means that people might be portraying sexist behaviors, but they are doing so in a very benevolent way," Calley said. "And so in their minds they are having very good intentions for what they are doing, but they don't understand how someone might experience those things negatively."
For instance, Calley shared that there have been job opportunities where a pregnant woman being considered has been overlooked because leaders, deciding on her behalf, believed as a new mother she would not want the job.
"They are trying to help her make good decisions, but they didn't actually go to that woman and let her know that she was being considered for that position… allowing her to come back and say that she either takes the job or that she has too much on her plate to take the job," Calley said.   
In order to eliminate this sort of discrimination, the committee provides a place where people can process these gender-relevant experiences.  Ultimately the committee hopes to create a culture where gender equality can be spoken about freely, respectfully and thoughtfully.
"We can have dialogue, we can have differing opinions. We don't ever want it to just be, 'Nope! We all have the same opinion.' That's not what university is about," Kaneshiro said. "We've never had a committee for women at this university before and so it's very groundbreaking for us and I just appreciate President Corey's heart to want to make sure that women are heard and flourishing."