Eagles' season crosses the finish line
The cross country teams competed in the NAIA Championships to wrap up their impressive 2016 campaign.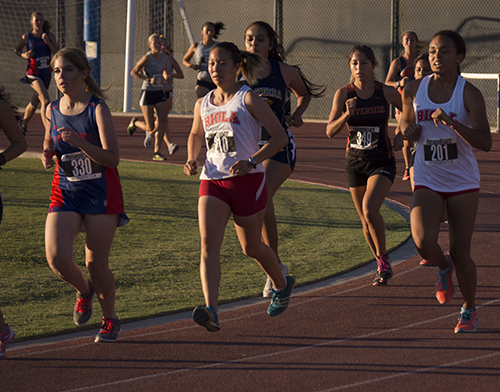 Keaton Moore, Writer
November 30, 2016
For both the men's and women's cross country teams, their successful seasons came to an end at the National Association of Intercollegiate Athletics Championship. While the success of the women's team mirrored their performance in the Golden State Athletic Conference Championship, the men's team finished an admirable season on a low note.
The men's cross country team's road through the season came with a series of ups and downs. Aside from their three third place and one second place races, the men's team fell to 16th of 29 teams at the University of California Riverside Invitational on Sept. 19 and capped their season in 26th place out of 37 in the NAIA Championship on Nov. 19.
Although they fell short of the GSAC Championship, the men's team earned a spot in the NAIA Championship. However, their opportunity for redemption fell apart as they finished in the bottom half of the championship standings. Junior Miles Brubacher became the Eagles' top runner after finishing in 88th place at 25:55. Despite freshman Gabe Plendcio and sophomore Christian Perez finishing within a minute of Brubacher, he proved the only Eagle to place in the top 100.
Prior to the men's race, the women's team maintained their season-long streak of finishing no lower than third place with a top-three finish in the NAIA Championship. The women's team ran their best in the Cougar Challenge on Oct. 15 and the GSAC Championship on Nov. 5, taking home first place in both.
Although they failed to bring home the gold, the women's team brought home bronze and finished third among the top competitors of the NAIA. Furthermore, the Eagles finished as the highest GSAC team in the race, besting The Master's University and Westmont College.
Not only did sophomore Emily Ransom earn seventh place overall, but she received All-American honors with her impressive performance. She finished the race in 17:28, only a few seconds short of the top five. Senior Lyndee Dawson also earned All-American honors by finishing 17:43 and claiming 22nd place. Following shortly behind, junior Hannah Hunsaker took 40th place with her 19:06 time and junior Stephanie Croy finishing 58th at 18:19. As sophomore Kaitlin Quaid earned 74th place at 18:33, she rounded out the Eagles' top-five runners.