Record-breaking finish to fall season
Two freshmen led the way as Biola women's golf wrapped up 2016 in monumental fashion.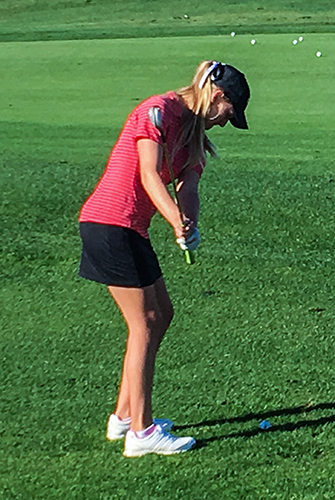 Women's golf finished their fall tournament circuit on an extremely high note, led by Jenny Zhang and Tori Roeske. The two freshmen tied for first place in the individual competition at the Arizona Christian University Fall Invitational on Nov. 21-22, becoming the fourth and fifth individual tournament champions in the history of the women's program.
Both Roeske and Zhang braved inclement weather on the first day of the tournament to each shoot a 74, giving them a lead at the halfway mark they would not relinquish. After the skies cleared on the second day, both women cut two strokes off their initial scores to seal their shared victory with a total of 146. That mark set a new school record for lowest individual women's score in a two-day tournament.
Thanks in no small part to the two freshmen, the Eagles as a team had one of their greatest tournaments in school history. The combined score of 314 on the second day marked the Eagles' lowest ever for a single round and nearly erased a nine-stroke deficit to Corban University after day one. Although Biola finished second to Corban by just one stroke, the overall team score of 634 beat their previous record for a two-day tournament — set at the same event in 2015 — by a whopping 10 strokes.
The ACU invitational marked the last fall tournament for Biola in 2016. They will enjoy a long break before kicking off their spring circuit at the Point Loma Reach tournament in February 2017.