CCCU restructures memberships
Following division in the CCCU, member schools fall under a new classification.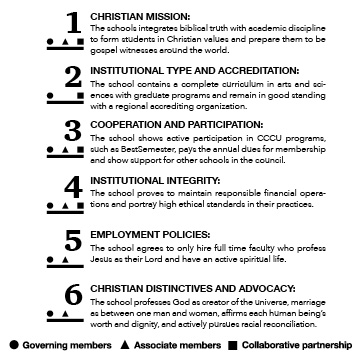 The Council of Christian Colleges and Universities announced a newly restructured membership policy September 2016, following the Supreme Court decision in June 2015 to legalize same-sex marriage.
A new membership policy
Christian colleges across the nation carried various opinions about how to respond to this historic Supreme Court decision, which caused some division within the CCCU regarding the council's position on same-sex marriage, among other issues concerning biblical orthodoxy. The council then decided to create a task force to help define the council's membership policies, chaired by President Barry Corey and Wheaton College's President Philip Ryken.
"We just tried to clean it all up and have clear lines of distinction and that's what this group did. Before, had gotten a little bit too many subcategories that it kind of lost some of its definition," Corey said. "It was the issue of several schools changing the positions on marriage that actually precipitated 'We need to look at this again' and that's what this task force group did for the better part of this past year, and I think we've come up with some good recommendations."
Unchanged positions
The CCCU holds to six criteria which determine a school's membership and participation within the council. These include Christian mission, institutional type and accreditation, cooperation and participation, institutional integrity, employment policies and Christian distinctives and advocacy. The task force used these six criteria to specify and clarify the CCCU's unchanged positions.
The new membership policy breaks down into three categories. Governing members hold voting rights on council matters and adhere to all six criteria. Biola will remain a fully active governing member, according to Corey.
Inclusive contribution
Schools which do not adhere to all six criteria cannot vote in council matters. Associate members do not adhere to the second criteria of institutional type and accreditation, which includes seminaries and non-accredited schools. The final category contains collaborative partnerships which only need to adhere to the first four criteria. This category allows schools who permit same-sex marriage in their communities to contribute to the council.
"The new changes were, in many ways, no significant changes," Corey said. "It's just kind of reaffirming the long-standing position for the Council of Christian Colleges and Universities to be a council of Christ-centered schools that take the historical Christian faith very seriously in their educational philosophy and practice.