Positive start to playoffs
A three-set upset over MidAmerica Nazarene University gives Biola volleyball confidence in pool play.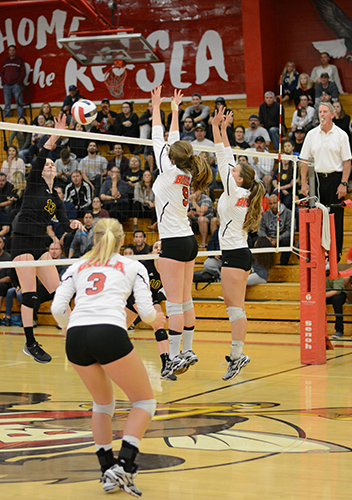 The Biola volleyball team started their National Association of Intercollegiate Athletics playoff run in Sioux City, Iowa with a decisive 3-0 upset in the first match of pool play against the No. 19 ranked MidAmerica Nazarene University Pioneers.
The score stayed close through the entirety of the match, with each set decided by three or fewer points. In the first set, the Eagles flew to an early 7-1 lead, but the Pioneers never buckled under Biola's pressure, making the game close all the way to the end. MidAmerica Nazarene led 22-21 in the final stretch, but Biola won six of the last nine points to give them a 27-25 win.
The Pioneers started off set two strong, and Biola did not take a lead until midway through the match at 16-15. The two teams dueled for points for the rest of the match, culminating in an exciting final few points. MidAmerica had two set point opportunities that Biola successfully fought off before converting one of their own into another 27-25 victory.
The third and final set proved the only set that did not require extra points to decide a winner, as Biola took an 8-7 lead early on and never gave it up, getting a 25-22 set win for the sweep. This match provides encouragement and confidence for head coach Aaron Seltzer's young players, only five of whom have experience at the NAIA tournament level.
Sophomore opposite Karly Dantuma led the way in kills, accumulating 11. She received support from junior middle Ally Forsberg with nine kills and senior middle Olivia Sorensen and sophomore outside Hannah van Warmerdam with eight kills each.
Biola next steps onto the court at the Tyson Events Center in Sioux City to face the No. 4 ranked Lindsey Wilson College Blue Raiders. Lindsey Wilson won their first match of pool play on Nov. 29, as they took a 3-0 sweep over the Tabor College Bluejays. Play between the Eagles and the Blue Raiders begins at 9 a.m. Central Standard Time on Nov. 30.