Commuter Life hires new assistant director
Former pastor hopes to develop leaders through Commuter Life.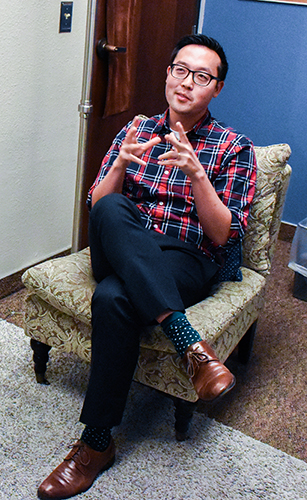 As of this fall, new assistant director of Commuter Life Patrick Shin aims to help off-campus students through mentoring and counseling to make them feel that they have a welcoming community and a safe space.
invest and empower people to live more authentically
Shin considers his current role a ministry, and his training as a pastor has played into his responsibilities of mentoring and counseling students one-on-one as well as developing leaders in the Commuter Life department.
"I feel like there are a lot of pastoral components that are brought into it," Shin said. "Whether it's taking leaders and inspiring them or helping them through the process of what it looks like to integrate your faith and what you're doing. And also to counsel people in different ways by saying, 'this is a safe space for you to be.'"
Shin feels called to make students into leaders who invest and empower people to live more authentically and for God's vision of life.
"In the next couple of years, I see myself continuing to learn how to better coach and equip people in practical skill sets. I believe there is something God-honoring in learning to do work well," Shin said.
Another aspect of Shin's job involves creating a structure for students to deepen and integrate their education in a holistic sense, including emotional maturity, cultural sensitivity and their sense of self. These things have a positive effect on cultivating a community.
bringing good energy to the team
"You can speak of profound things about the Lord but be so relationally isolated that you never really experience or encounter the beauties of community that God talks about," Shin said.
However, students praise Shin for his interactions with staff members and students, including Hanna Lee, Collegium worker and junior kinesiology major.
"He brings good energy to the team. He is really positive and always has a smile on his face," Lee said.
Sophomore business major Bryan Kreitz works closely with Shin and agrees on his positivity, as well as his good transition to working in commuter life.
"I think he is doing a really good job getting to know how Commuter Life works," Kreitz said.