Students prepare presents
Volunteers pack Christmas boxes for children around the world.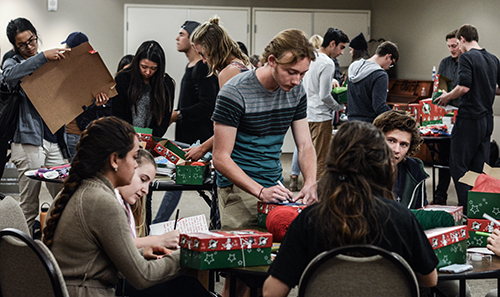 For the first time, 6th Street Public Relations provided a tangible and local way for students to engage in missions through an Operation Christmas Child packing party on Nov. 17.
wanting them to know God's love
In an effort to make the event popular among colleges across the nation, Samaritan's Purse agreed to partner with Biola's 6th Street PR to make this the first campus-wide packing party at Biola. Over 200 boxes were packed and will go to children who often do not receive Christmas presents.
Each box contains toys, hygienic items and school supplies. Participants also had the opportunity to take a fun photo in the photo booth and write encouraging cards to the recipient of the box.
"I hope that it will help the child know that they deserve to be taken care of and that there's people on the other side of the world who care about them and want them to know God's love," said Emilie Rosenow, senior social sciences major.
One of the goals for the event included encouraging students to give, either by participating in the packing party or through donating supplies in the collection boxes set up in each dorm. Although donations from students were sparse, 6th Street PR received supplies from local dentist offices and seven departments on campus.
"It's easy to make excuses as college students not to give, whether that be your time or energy or money," said Lauren Peterson, junior public relations major and 6th Street PR account executive. "And I think that's something that through this campaign I've realized and I've seen how the amount of power that college students have to be so generous but don't necessarily use that."
the thankful mood
The event itself benefited from the mood set by the Caf, as many students stopped by before or after their Thanksgiving meal.
"I think since we're all in the thankful mood already for all that we have [it] is definitely good timing to do this event. People want to give more of what they have and they want others to be happy during the holidays too," Rosenow said.
Another goal consisted of providing students the opportunity to engage in missions in a practical, yet impactful way.
"This is such a tangible way to be involved in missions without actually going international… I do think participating in missions in this kind of way is just as valuable and it's important that people see that," Peterson said.
Along with the missional aspect, students such as sophomore communications major Karis Heidebrecht were excited to have a piece of their childhood brought to college.
"I've always grown up doing this, so I got really excited about doing it here," Heidebrecht said. "It's really cool Biola is offering something like this and it's a really cool program."