Library becomes an open book
La Mirada Library opens with major changes complete.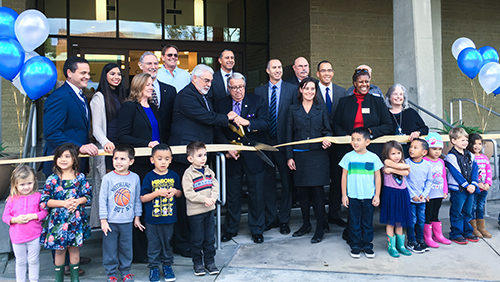 After seven years of planning and renovating, the La Mirada Library's official dedication occurred with a soft opening on Nov. 21.
more flexible space
The library has been closed since Dec. 31, 2015 due to renovations within fourth district Los Angeles County Supervisor Don Knabe's Operation Libraries project. The renovations include designated areas for children, teens and adults, study and conference rooms, and a new bookstore for the Friends of the La Mirada Library group.
"I think that there's a lot more open space and a lot more flexible space so they'll be able to use it differently than traditional libraries," said Skye Patrick, Los Angeles County Library Director. "I think they're really going to like the fact that we now have [a] designated… children's area, designated teen area and designated adult area."
To start off the dedication ceremony, Patrick welcomed local community members and officials and talked about the importance of staying persistent to complete a project. Sonora High School senior Emma Reynosa Avila spoke next on how the library has become a place for the community rather than simply a place that holds books.
A Dream
"The reopening will bring back people to the library and even more people because it's reopened and there's going to be so many new things that people are going to want to be attracted to, and so the more people in the library is good and I want to help attract them," Avila said.
With the new additions, Knabe described the completion of this project as a dream. Patrick also mentioned the library now includes 12 new adult computers and seven new children's computers and the library book collection has gone up to 85,000.
"I think that this is one of those communities that already loves their library, so anything that we do will just serve as an enhancement," Patrick said.
Following this, mayor of La Mirada Steve De Ruse shared about his gladness on the library reopening and appreciation of the hard work that went into the project.
"I hope it will spur more people to come down here, take advantage of the resources. It's an educational tool, it is kind of the hub of the city and it always has been. There's a lot of things here for all ages and I just hope the community really takes advantage of it because it is something that is going to last for quite a while," De Ruse said.
Hal Malkin, president of Friends of the La Mirada Library, also spoke on the lasting importance of the library. Malkin encouraged the community to support the library as it remains a heritage of the past and a promise of the future. The renovations include a space for the Friends of the Library to have a bookstore, which members showed excitement for, including book sale runner Lynn Allen.  
"I'm really excited, I can't wait," Allen said. "Hopefully we will bring in, let's say, a couple hundred [dollars] a week, hopefully more than that. That would amount to quite a bit of money for the library."
While people remain excited about the current state of renovations, projects remain such as putting in the ceiling in the teen workroom, adding more fixtures, painting and adding smart boards in the study rooms, with an official opening in the spring, according to Patrick. However, the current renovations already stun people, including library worker Laura Moran.
"Oh my gosh, it's absolutely amazing," Moran said. "Everything is brand new and everything is just, I don't really have words. It's really nice, I'm really happy that everything turned out amazing."