Swim hits rough patch in Azusa
Despite some individual victories, the Eagles lost two of three team contests.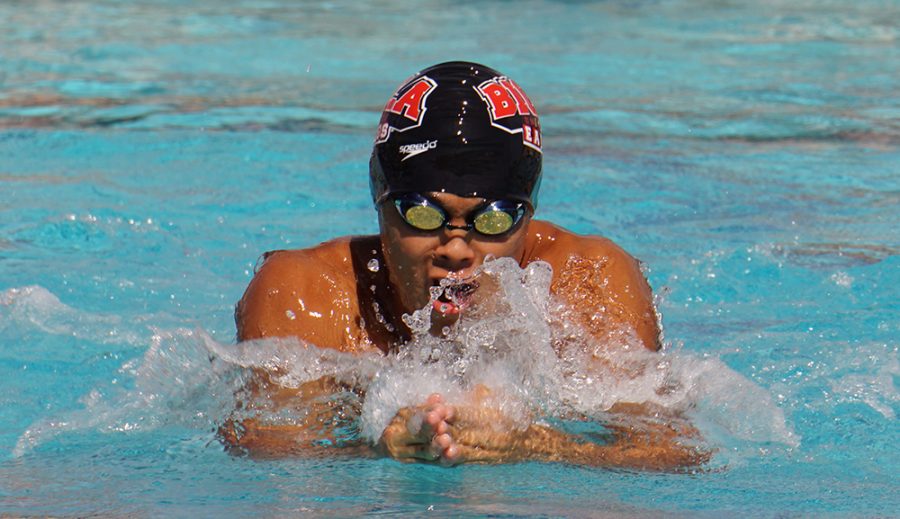 After resting the previous weekend, Biola swim jumped back into action at Azusa Pacific University on Nov. 5. The two-week gap between meets may have caused some rust, as the Eagles had one of their weaker outings of the season. The men lost their only team competition to Chapman University, while the women beat Chapman but got trounced by the host team.
There were some silver linings in the individual races. Freshman Andrew Benson recorded his first wins of the year in the 200-yard freestyle and 500-yard freestyle, while his fellow freshman Raymond Kam came first in the 200-yard breaststroke. Junior Tom Franicevich added a victory in the 100-yard freestyle, and an Eagles squad made up of Kam, Benson, junior Daniel Vale and senior Michael Severi won the men's 200-yard freestyle relay.
Junior Lisa Tixier continued her strong season with a victory in the women's 200-yard butterfly. It marked the only individual victory for the Biola women in the pool, but they had several other solid performances. Freshmen Rachel Stinchcomb and Emily Silzel came second in the 200-yard freestyle and 500-yard freestyle, respectively, while relay teams featuring both Silzel and Tixier finished second in the 400-yard medley and third in the 200-yard freestyle.
The Eagles have a week to turn the page before they head to Aliso Viejo, Calif. for an invitational at Soka University on Nov. 12.
About the Writer
Austin Green, Managing Editor
Austin Green is a junior journalism major who was first among his friends to predict that LeBron James would sign with the Los Angeles Lakers. When not focused on school or work, he enjoys watching sports, going to the beach or coffee shops, and hanging out with the guys on his dorm floor.

[email protected]



I laughed the first time I heard a former editor-in-chief use the line "once you join the Chimes, you never really leave." Now in my third year here, it turns out...