Phone restricted access
Risk Management requests Galaxy Note 7 remain off-campus.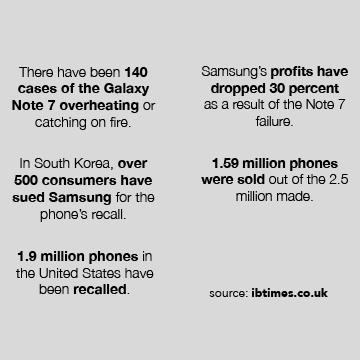 In adherence with Samsung's recall on the Galaxy Note 7, as well as the Federal Aviation Administration's banning of the phone on airplanes, Risk Management asked students, faculty and staff to not bring the phone on campus.
"[Samsung] tried to revamp the phone and they were still having problems, and the FAA banned it, so it's now a federal crime to take a Galaxy Note 7 on board an airplane, so that kind of swayed us pretty good there," said Robert Calley, director of financial systems.
Members of the Biola community received the notice, along with listed dangers of the phone, through email on Oct. 20. The phone is banned in the library due to a specific request of the library staff. While not banned anywhere else on campus, anyone who brings the phone on campus must take responsibility for any damages caused by the phone.
"Basically, we just don't want a known entity to cause harm when we could have just said something," said James Yoon, risk and insurance administrator.
The decision also came due to the exploding batteries and fires the Galaxy Note 7 phones have caused. Calley specifically worried about possible fires for students in the dorms.
"Student safety is a high priority and we want to protect the safety of the students. One of my big thoughts was about the dorms, with the students having the phones in the dorms, you put it down to charge next to your whatever, your textbook, and you go to sleep and you wake up and there's a fire," Calley said.