Eagles' victory promotes them to first place
A pair of freshmen forwards provide the goals for women's soccer's victory over the Royals.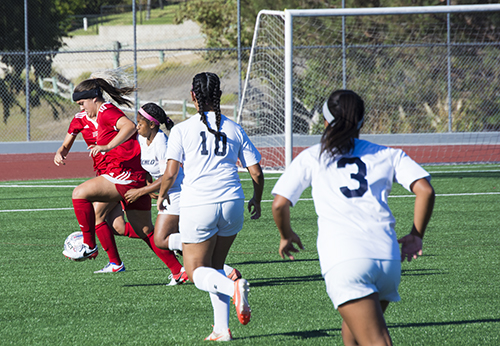 With their 2-1 victory over the Hope International University Royals, the women's soccer team preserve an undefeated record and first place in the Golden State Athletic Conference. Their 6-0-1 conference record gives them 19 points, putting them only one point ahead of the Vanguard University Lions.
Labate with the lead
Although the Royals displayed some offensive efforts late in the the game, one goal in each period gave the Eagles enough insurance to beat Hope International. Within 10 minutes, freshman forward Paula-Marie Labate gave the Eagles the lead with a goal 9:28 into the game.
Freshman forward Sarah Jeffries added to Biola's lead 40 minutes later after stealing a pass on the right side. She netted the ball at 51:03 and scored what turned out to be the game-winning goal.
Unfortunately for freshman goalkeeper Christina Rodriguez, who made five saves in the game, her shutout streak came to an end after the Royals scored at 88:05. Regardless, she has managed to hold the Eagles' opponents scoreless through four consecutive games and only allowed six goals thus far in the season.
one of their most impressive seasons
"There have been couple times when I could have been scored on, but my defense came in clutch and prevented a goal opportunity from the other team," Rodriguez said. "It feels good knowing that my defense has my back and they know I have theirs."
With the Eagles off to one of their most impressive seasons, Vanguard holds a 6-1 record and breathe down Biola's neck for first place in GSAC. Prior to the game, the Lions held a two-point lead in first place. However, with the Eagles' victory over the Royals, they regained the title as the sole team atop the conference.
The Eagles return to Biola for senior night, where they play the San Diego Christian College Hawks on Saturday, Oct. 22 at 4:30 p.m.