Third Biola men's golfer to achieve individual win
Austin Bishop took home the tournament championship as the men's golf team finished second overall.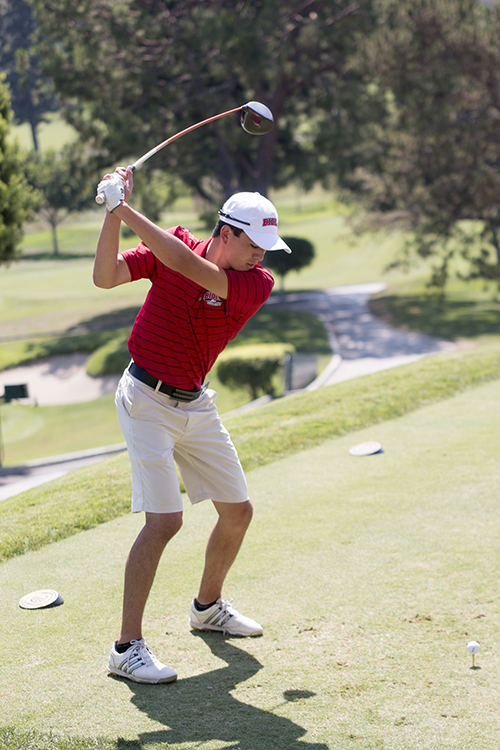 Dale Fredriks, Writer
October 19, 2016
High winds and mild temperatures greeted the Biola men's golf team as they traveled to Arizona on Oct. 17 and 18 for the Embry-Riddle Co-Ed Invite hosted at the Talking Rock Golf Club. The winds proved a non-issue for the Eagles as they finished second overall, with sophomore Austin Bishop taking home the top spot individually for his first collegiate tournament win and only the third men's golfer to take home an individual title.
Strong from start to finish
The team has experience with high winds, as the first tournament they went to, the Cal State Intercollegiate, featured gusts upwards of 40 miles per hour.
"Yesterday [Oct. 18] and Monday [Oct. 17] there were probably 30 miles per hour winds so we felt prepared in the winds," said sophomore Dominic Ariondo. "We saw other teams struggle with that, but we did not let that bring us down and we stayed mentally tough."
The first day concluded with Biola sitting in the third spot, only one stroke behind the second place team. Bishop led the Biola effort with a 71 in the first round to put him one stroke under par — one of only two players in the field to finish under par for the round. Junior Samuel Shih finished round one with a 75, or three over par. Junior Kyle McAbee ended with a 79, junior Cameron Bauer shot an 82 and Ariondo shot an 83.
Day two contained two full rounds of golf, and Biola scored an excellent 295 in the second round of the day that boosted their finishing position. In the first round of the day but second overall, Shih put up the best score, finishing par-for-the-course, a 72. Bauer and Bishop each shot under 80, scoring a 77 and 79, respectively.
Biola shot the second-lowest round three score for the tournament, getting bested only by a 292 from the Arizona Christian University team that tied them for second place overall. Bishop one-upped his first round score by a stroke, finishing at 70 as the lowest individual score in the tournament. McAbee posted a 71 to help out the Biola effort and Ariondo contributed a 75.
Bishop brings it home
Bishop's individual win marked not only his first collegiate win, but put him as only the third Eagle men's golfer to win an individual tournament.
"I think he's become more confident," Ariondo said. "I think the first tournament, he felt like he needed to be 'the guy.' But shooting a bad score in the first tournament, he did not let that bring him down. He knew he had teammates that would bring him back up, and he has been doing great ever since."
The Eagles' second place score of 910 put them just two strokes behind the winning team, the host Embry-Riddle Aeronautical University. After two rounds, Biola sat 10 strokes behind Embry-Riddle, but closed the gap effectively with their third round.
The men have one more tournament this fall, when they travel to Vista Valley Country Club in Vista Valley, Calif. for the CSUSM Fall Invite on Oct. 24 through 25.