Trump cannot deny new groping scandals
Distrust of the evidence cannot discredit sexual assault claims.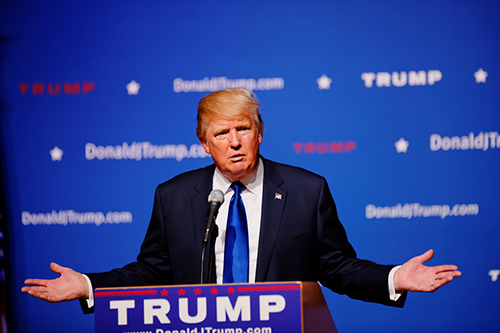 In the midst of Donald Trump's "locker room talk" tapes and denial of sexual assault accusations at the Oct. 9 town hall debate, more women came forward to admit Trump sexually assaulted them in the past. Instinctively, the Republican candidate denied the claims, calling them a "fake smear" by the media at a West Palm Beach rally. His supporters also backed this denial with #NextFakeTrumpVictim. Denials of sexual assault scare victims out of reporting their cases to the police and shame them into thinking their stories do not matter. It shows the lack of care toward sexualt assault cases and victims in America.
A Lack of Empathy
Trump's incidents of groping, fondling and kissing women did not solely occur in recent years, nor did they happen in an isolated fashion. His actions date back to at least the 1990s in offices and on planes. For this particular event, Trump denied any claims of his recorded "locker room talk" tape and any sexual advances he made in the past. The inaccuracy of these claims pushed two women to speak against Trump. Their accounts object to his supposed innocence but he denied this claims.
Trump's claims contain no logic. He immediately nullified any cry for help by the past victims. The effects of this denial extend beyond the political trail. Having a prominent figure in mainstream media call the accounts of victims "fake smears" deeply impacts a marginalized group of people within society who needs a voice to tell their stories.
The Brock Turner case and the response to the alleged rape of Kesha turn women away from reporting rape and sexual assault. The letter from the victim of the Brock Turner case highlights the lack of trust victims have toward the courts. It also depicts the lack of discipline toward rapists since Turner only served jail time for three months. In Kesha's case, a California judge denied her a release from her contract with Sony Records, a label where she suffered alleged abuse by producer Dr. Luke for 10 years. If national situations like these come before the law and rule in favor of the defendants, what kind of precedent does that set for ordinary people who need to report rape?
Fears of Disbelief
The timing of the confessions allow Trump to question their credibility. It makes sense to dispute these claims about the reports because of their suspiciously timed release. His argument, though, contains a good amount of backwards rhetoric. The evidence of Trump's sexual past help legitimize their encounters with the candidate. If a victim reported an event like this at any other time, no one would believe them. Neither Trump nor any of his supporters understand that strength lies in numbers. For instance, more victims of Bill Cosby came forward after the initial break of his sex scandal. The fear of not being believed held them back from reporting the attacks when they initially took place.
Trump said at the town hall debate on Oct. 9, "Nobody has more respect for women than I do." Trump falsifies this statement because he perpetually lies to his supporters. The locker room tapes exposed his reprehensible view of women, and now Trump went even further by victim shaming and discrediting sexual assault stories to keep a favorable public image. Trying to uphold an already-low public view never warrants victim shaming, and the potential president of the United States did just that.