Organizations discuss ways to fundraise
Student leaders share on the successes of their club and team fundraisers.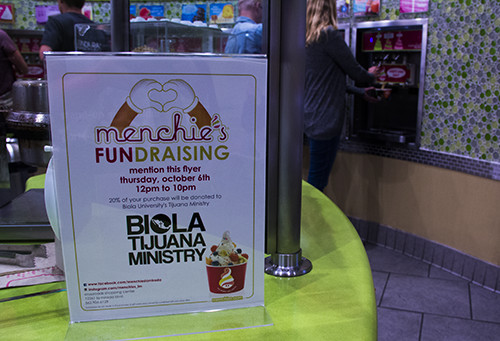 As school progresses, students who are committed to clubs and missionary teams begin fundraising as funding from previous years or club funding runs out.
communal aspect
In order to host certain events, raise awareness for specific things or fund one of the Student Missionary Union's mission trips, fundraising must happen. Clubs and teams often have fundraising nights at Chick-fil-A, Menchie's, Pieology or Yogurtland, in which they receive a percentage of the money raised during their fundraising time.
"What's really cool about those fundraisers is just the whole communal aspect with it, with seeing different Biola students and faculty members come and support them and the team is responsible for handing out the food… and so that gives us the opportunity to have that interaction just to thank people for coming and to explain a little bit more about our trip and how they can be praying," said Nick Mutch, director of SMU's short-term missions and junior public relations major.
For SMU, the Chick-fil-A Spirit Nights bring in about $100, as well as foster a strong relationship between the La Habra location and Biola. Chick-fil-A gives teams a percentage of sales made during their fundraising time. Total sales under $500 contribute 10 percent, sales from $500 to $999, 15 percent, and anything over $1,000, 20 percent, according to Quinn Mutch, marketing manager at Chick-fil-A La Habra.
"I think these events are extremely successful, we've just seen a lot of profitability on both our side as well as the side of the team," Quinn said. "The restaurants are always really packed the night of Spirit Night, so it's so much fun to see the team or whatever organization is here just get involved with helping out in the dining room, serving their guests… It's basically what you put into it you'll get out of it."
While many teams and clubs fundraise at Chick-Fil-A, many other locations around Biola offer similar fundraising services. Both the Tijuana Ministry and Biola Public Relations Society of America hosted fundraisers on Oct. 6 at Menchie's and Yogurtland, respectively.
"It's an easy way for us as well as a fun way for people because not only do they get to donate, but also they're getting yogurt or getting boba or whatever it might be," said Cristina Schmitter, member of PRSSA and junior public relations major.
From Yogurtland, PRSSA received 20 percent back from the sales that night and made $44 towards their $300 goal to support those in human trafficking situations through A21.
The Tijuana Ministry raised $90 at Menchie's in fundraising to support the new structure of their ministry, where they travel to Mexico five times a semester rather than three.
New ways of fundraising
"We changed the way that our ministry is structured this year, so in the past people would pay $20 a trip and that would cover gas and transportation and parking and supplies and things like that. But this year we have selected a group of people to go down five times a semester," said Nadia Lauren, junior intercultural studies major.
Clubs and teams have found other ways to fundraise, including support letters and selling T-shirts. SMU orders about 150 T-shirts for each team, costing from $1,000 to $1,700, and then sells them for $20 each, depending on the type of shirt, according to junior public relations major Sarah Giovanni, SMU's director of marketing and communications. Nick believes these fundraisers allow for greater community.
"These other fundraisers that we encourage them to put on are mainly to get the Biola community behind us and to raise awareness and to support us, whether it's financially, through coming and supporting us and going to the Chick-Fil-A food fundraiser and buying food, or prayerfully, through acknowledging the ministry that we're doing and the need for the gospel to be reached in these areas and then coming alongside us and praying over each of the teams and their ministries and the countries that they'll be serving in," Nick said.