Flog Gnaw triumphs over Complex-Con
Complex-Con's lineup crumbles while Camp Flog Gnaw continues to grow.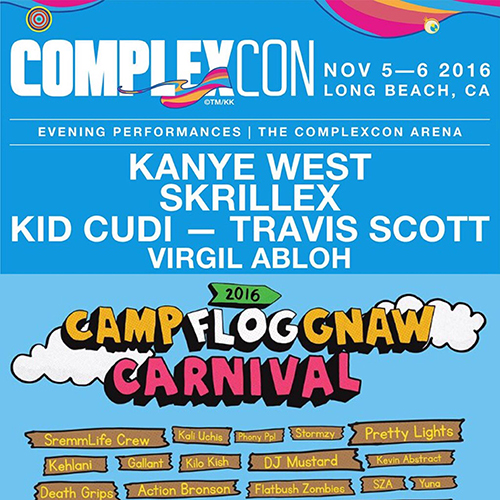 Music festivals have become more popular than ever in the past five years. The most epic music festival any mainstream artist appears at is the famous Coachella. Coachella's first music festival started in 1999, which led more music festivals to arise such as Afro Punk, EDC and Outside Lands.
selling out for the first time
However, shining through all the music festivals coming up, rapper Tyler, The Creator created a music carnival known as Camp Flog Gnaw in 2012. Tyler had yet to establish himself as a known artist at the time and the project fell apart due to low ticket purchases, like many of Tyler's experimental brainchildren have numerous times in the past.
Tyler had ambition and decided to give the idea another shot, resulting in the carnival selling out for the first time. His ideas have sometimes become too insane for some people to grasp, but the proposition worked well as a whole when he brought the rides, games and food and mixed it together with music everyone listened to. Whether it stemmed from his headliners, which include Snoop Dogg, or his fame grew, the event grew to epic proportions.  
However, after Tyler the Creator's breakthrough, another problem was encountered: Complex-Con announced their official fair concert on May 10. Complex is a famous magazine known for keeping up with music artists and getting the inside scoop. Complex-Con fair dates are set for Nov. 5 and 6, a week before Camp Flog Gnaw will be hosted in Long Beach.
making Camp Flog Gnaw stand out
Complex describes their fair as filled with food, live performances, interviews and shopping. There is a slight difference between their event and Camp Flog Gnaw, with the addition of live interviews for fans, but Tyler still outweighs this with his heavy lineup. Complex has more money, considering their status as a major music magazine. Tyler was not happy about the idea Complex stole his proposal and he took to Twitter to say that he would make Flog Gnaw stand out against Complex-Con and he would not be taking the high road in this fight.
Tyler became outraged and stayed true to his promise by making Camp Flog Gnaw stand out with headliners, including Chance The Rapper, Erykah Badu, Lil Wayne and many more well-known names. While Tyler adds more names to his iconic lineup, Complex-Con's falls apart with losing their most eye-catching performer, Kanye West. While Complex was still trying recover from this massive loss, they had to cross off Kid Cudi as well after he got admitted into a rehabilitation center due to depression.
Though Complex-Con has recently added Pharrell, Tyler the Creator's idol,and Snoop Dogg, Camp Flog Gnaw's main headliner last year, there was no making a comeback at this point. Tyler slaughtered Complex-Con's lineup and refuses to back down from a fight Complex started.