Azerbaijan diplomat visits Biola
The Consulate General of Azerbaijan spoke to students about interfaith harmony.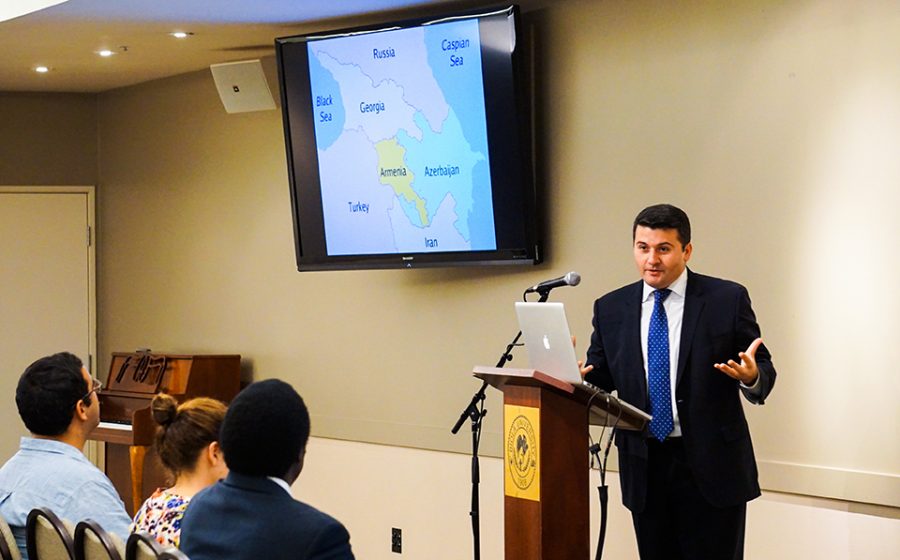 Approximately 30 students and faculty came to hear the Consulate General of Azerbaijan, Nasimi Aghayev, speak on the political and religious background of the country in the Caf Banquet room on Oct. 11, 2016 to bring a new perspective on the conflict in the Middle East.
the unique peace and mutual respect
Azerbaijan remains the only country in the region between Iran and Russia which has stayed peaceful in light of Middle East conflict. This is largely due to the nation's commitment to interfaith harmony and dialogue between the three most prominent religions: Islam, Christianity and Judaism.
"We want to show with our example that it's possible, and the more the world learns about this model and the other possible working models, the sooner we will have these artificially created stereotypes destroyed that this harmony is impossible," Aghayev said.
The event opened with a video briefly introducing the culture of the nation and its history, religious influences and economy. Following this, faculty members from the Cook School of Intercultural Studies gave an opening prayer and introductions. Kristina Conrad, junior education major, then honored Aghayev by performing a traditional Azerbaijani song on clarinet.
"It was such an honor to have this event and have such great guests and be able to communicate my appreciation of this beautiful culture and make the [Aghayev] feel welcome," Conrad said.
Aghayev then spoke on the history of the country and the economy, specifically the unique peace and mutual respect between not only religious minorities, but also the smaller sects within Islam which are the root cause of much of the Middle East conflict.
"The Islam in Azerbaijan has always been tolerant of other minorities… These radical, extremist ideologies [have] taken hold in many different countries across the Muslim world and that has brought about negative impact," Aghayev said to the audience. "In Azerbaijan we have not allowed that to happen. We have not allowed the negative influences to spark a difference, to infiltrate the country."
Aghayev contacted Moussa Bongoyok, associate professor of intercultural studies, after meeting him earlier this year about setting up an event to speak about interfaith harmony to Biola students, claiming university students are the key to bringing about world peace in the future.
"[Students] are the future and it's important for them primarily to understand the value of multiculturalism, the value of interfaith harmony, because there are attempts from different other sides to delegate the importance for cultures to understand each other, for religions to understand each other, and these radical extremists try to preach that it's impossible," Aghayev said.
It should be twofold
Attendees appreciated Aghayev reaching out to them and explaining the importance and possibility of several cultures and religions coexisting to learn and grow from each other.
"[It's] interesting to hear their perspective and how they're thinking, which you could see through how they view religion and how they cohabit together," said Elaine Fung, junior communications major.
The session ended with a question and answer session. One question asked the key steps to achieve and maintain interfaith harmony.
"Engaging with other countries and trying to bring together different cultures and religions as often as possible, so as to try to show this model to others as well that it's the possibility of peace and harmony," Aghayev said to the audience. "It should be twofold, in our case. It's both the society and government; they work together. The society has been tolerant for centuries. But the government is also trying to foster this."
The event ended with a time to mingle with Aghayev and the other Azerbaijani officials over baklava and traditional Azerbaijani tea.
About the Writer
Jana Eller, Office Manager
As a senior intercultural studies major, Jana Eller loves stories, serving people and having lots of adventures. She can never pass up a good boba run and has a slight obsession with cows.

[email protected]



I came into college as an intercultural studies major with a faint interest in writing and journalism. After freelancing my first story, I fell in love and began building my way up through the ranks, holding multiple editorial positions along the way. After working on staff for...