Dorm events feel the heat
Large scale dorm events must follow new planning requirements.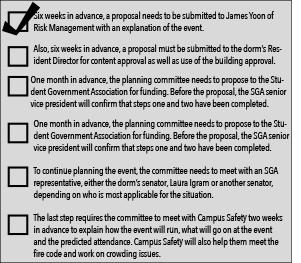 In prior years, student-run dorm events, such as Deck the Haven, Mosaic Masquerade and Heat of the Night, happened without much regulation by any department on campus. However, this year Student Development will only allow one event per semester, along with added specific requirements placed on those events.
Cut the heat
To determine which event would not occur, Student Development looked at each of the events to see the support needed, what events were already being planned and when each event would occur, and decided to cut Heat of the Night.
"I'm disappointed about this year because I think floor community is important to Biola, because it gets people to come back each year and it gets people to engage. And [students] think of academics, but they'll also remember those things they did on their floor that weren't just day-to-day stuff," said Brian Funke, junior political science major and three-year resident of the floor Heat.
While Heat of the Night allowed for greater community, it also caused stress for students running the event, and the overall system of student-run events need more oversight, according to Laura Igram, director of Student Programming and Activities and Student Government Association advisor.
"We met and realized there's probably some checkpoints we need to have like any other event on campus to make sure that students are safe… the students who are planning it and attending it are abiding by community standards and that it's a well done event," Igram said.
The new requirements align student-run dorm events with the rest of SPA events and community standards.
"They're helpful only insofar as that they keep us on track to being mindful of our audience. It does provide a great amount of new difficulties for us to work through, but that being said, none of the things that they're asking for are outrageous or difficult to implement into our event," said Jacob Moran, senior communication studies major and Hart senator.
The two first new planning steps require the planning committee to submit their proposal of the event to Risk Management and the dorm's resident director six weeks in advance. Following these steps, the committee can then propose to SGA one month prior to the event.  
last-minute nature
"There's always a last-minute nature to pieces of event planning, but planning it much more in advance I think is helpful for students in not getting overwhelmed," Igram said. "I hope that they'll be better planned so there'll be better communication, more advertisement [and] more delegation of duties for students on the planning committee."
The early preparation of the events remains key in the success of the event, but another major part requires meeting with other people, including SGA's vice president of finance, another SGA representative and Campus Safety. Meeting with Campus Safety allows the student committee to find a way to meet fire codes, deal with crowding and the potential need for presence of officers.
In addition to the planning requirements, the student committee must receive approval from the RD on event decorations and content to make sure they adhere with community standards. One big change includes the prohibiting of mocktails at Mosaic Masquerade.
"Mocktails is something they won't be permitted to do because it's not in accordance with our event guidelines for Student Programming and Activities," Igram said. "What does this communicate to students, especially students who are underage? What does this communicate to the community when students are pretending to drink cocktails even though they're mocktails?"
While the decoration changes, in addition to the planning changes, can cause more work, Igram promotes students' ability to have creativity and have the events run smoothly.
"I want these events to be successful and the last thing we want to happen is someone to be injured or university property to be damaged in a way that they cannot continue, so even though these steps may be a little annoying for students or may feel like extra work, they're actually in everyone's benefit to make sure everybody is safe and that the event is run well," Igram said.