Final beam signed
Students and faculty made their mark on the new science building.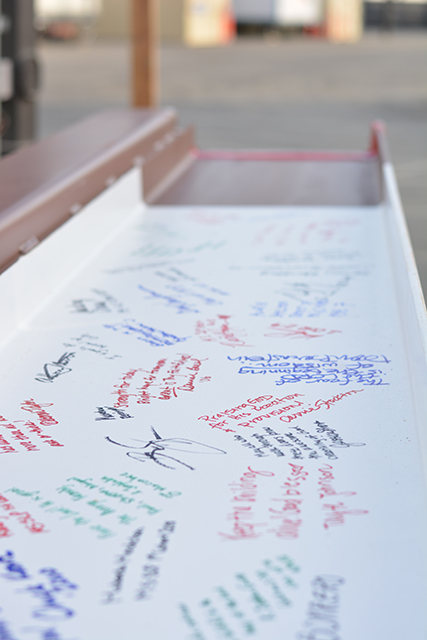 As construction of the Alton and Lydia Lim Center for Science, Technology and Health continues, students and faculty had the opportunity to sign the final beam on Sept. 19-20.
Excitement as mark is placed
The President's Administration Council gathered around the beam on Sept. 19 to pray for the new building and leave their favorite verses in permanent marker on the white painted metal. They showed excitement as they placed their mark as a part of this historic moment in Biola's history.
"The final beam is a significant step in any major construction project, so we just wanted to capture the moment and again give our campus community an opportunity to sign their names and to offer their own words of appreciation to God for how he's made this possible," said Adam Morris, vice president of university advancement.
In his inscription, Morris praised God for the success of the building thus far, both financially and construction-wise.
"We've raised over 48 million dollars so far for the project ― so grateful for God's provision of funding for this project," Morris said.
The new dean of the school of science, technology and health, Paul Ferguson, also came to the signing to express his appreciation for Biola's commitment to prepare students to be competent faith-based scientists.
The marvelous works of God.
"I signed the verse Psalm 139:14. That talks about the wonderful integration of science and faith [and] of really understanding the marvelous works of God and understanding how wonderful his works are. And what that generates for us is praise and assurance that the God of creation allows us to be great scientists," Ferguson said.
Although the beam will not be visible once placed, students and faculty enjoyed the opportunity to take part in the signing.
"It's exciting to sign my name to something that will probably stand on Biola's campus for many decades, and even though nobody will be able to see it, I'll know our names are there and our prayers and our best wishes for the building are there," said Matthew Weathers, applied instructional technology administrator.
About the Writer
Jana Eller, Office Manager
As a senior intercultural studies major, Jana Eller loves stories, serving people and having lots of adventures. She can never pass up a good boba run and has a slight obsession with cows.

[email protected]



I came into college as an intercultural studies major with a faint interest in writing and journalism. After freelancing my first story, I fell in love and began building my way up through the ranks, holding multiple editorial positions along the way. After working on staff for...