New VP André Stephens inspires students
Stephens shares about the next steps for Student Development.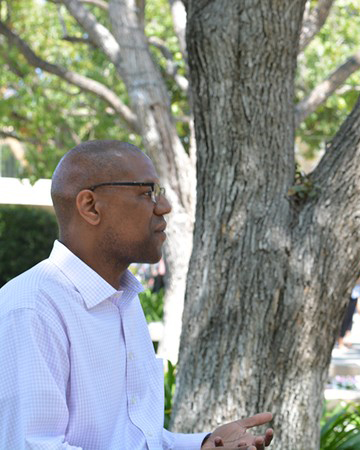 Hang on for a minute...we're trying to find some more stories you might like.
After two years of vacancy, André Stephens filled the position of vice president of Student Development on Aug. 16.
A Labor of Love
Prior to becoming Biola's VP of Student Development, Stephens worked as the associate vice president for University Admissions, overseeing undergraduate and graduate admissions, admission marketing, data management and Biola Youth Ministry Outreach.
After receiving his master's degree in speech communications from California State University Fullerton in 1996, Stephens was promoted to director of admissions at Biola and realized he loved working in the administrative part of higher education because he enjoyed working with admissions student workers.
"For many of them it was their first job, and so getting to train them in professionalism, and just being excited about Biola, I just fell in love with it," Stephens said.   
A Need for Diversity
Two weeks into the job, Stephens currently focuses on listening to the needs of students and staff. One of the their desires involves the need for more inclusion in diversity.    
"In the two weeks I've been here, the culture that I have experienced and witnessed from the staff and some of the students that I have gotten to interact with is that they definitely want to be diverse. Diversity and inclusion is important to that team and secondly, equity. Equity in how we treat students universally," Stephens said. "So looking at students who might be marginalized or left out, we want to be able to be inclusive of everyone."
Along with his new position, Stephens will continue to work on his doctorate in higher education administration at Claremont Graduate University. Stephens hopes to use his knowledge from the doctorate program and synthesize it with his experiential knowledge in order to contribute as much as he can to Biola's students to help them succeed.
In hopes of encouraging students to flourish, Stephens worked on the committee that helped create Biola's first generation scholars program, formed to aid first generation students in navigating their way through college.
"What typically happens to students who are first gen is it's hard for them to navigate the college space because they don't have parents who've done it before who can help them, and so they end up dropping out or being pushed out of the system," Stephens said. "But they really should be here and they can be thriving and flourishing if we take time to think through our processes, our procedures, our policies, the way we approach things in order to be inclusive."
Advocate for Students
As a Panamanian-American at Biola University in the late 80s and early 90s, he experienced similar challenges and therefore advocates for students.
"I am committed to always being a voice for students. In the space that I'm in, in leadership, I always want to be a student advocate. That's what we are here for.  That's who we work for. That's who I feel like I work for. And I want to be able to continue to do that," Stephens said.