Virtual tour creates translation possibilities
With USC the first to have a multilingual commencement ceremony, Biola implements a multilingual virtual tour.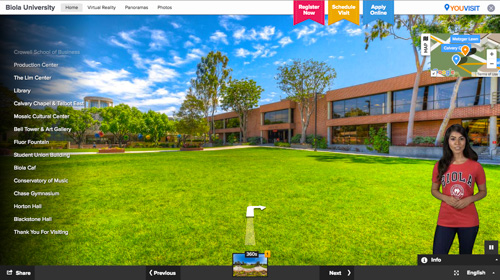 Universities across the nation watched as the University of Southern California translated their main commencement ceremony into Spanish and Chinese along with sign language on May 13.
Exploring Ideas
Adam Rosen, head of cultural relations and USC university events, said the university is the first of any to do so, according to an article by USC Annenberg Media. Translations were made available through the commencement website for mobile devices.
Assistant director of public relations and internal communications Brenda Velasco said that though Biola has not visited the topic of a multilingual commencement ceremony, Biola has begun considering other ways to reach different languages, including sign language.
"So currently [Biola] hasn't been exploring that idea however [Biola] has been exploring other ways where we can reach different languages so I think this topic in particular is a topic that is on the horizon while other schools like USC are doing this that we definitely are going to start exploring that," Velasco said.
One new method allows visitors to view different areas on campus through a virtual tour as if they were receiving a tour from student ambassadors. The virtual tour can currently be viewed in three languages: English, Spanish and Korean.
"We're actually beginning to implement those practices in other ways and so the commencement ceremony is another activity that we're going to have to explore," Velasco said.
Something different
With the completion of Biola's new virtual tour, the university will use data regarding the popularity of other languages collected from the website to begin looking at the possibility of multilingual accommodations during the welcoming process along with the commencement ceremony, Velasco said.
Freshman biological science major Bryan Kreitz agrees with the idea of providing translation services for those who need it. Kreitz's parents both speak Spanish, and while his mother understands English, he knows his father would greatly benefit from translations during the commencement ceremony.
"I think it's something different," Kreitz said. "So I think it's a great idea that they're trying to do this. [USC is] trying to reach out to students who have parents that don't understand English. I think it's a great idea."
Biola currently started to implement translations for the staff development conference held during the summer for Spanish speakers. Users wear a headset where a translator can speak through a receiver that transmits directly to the wearer's headset without interrupting the speaker. Biola could hire professors or employees who could provide translations but instead seek outside help for the staff development conference so employees and faculty can focus on participating.
The first two languages Biola are considering to implement for the welcoming process and the commencement ceremony include Spanish and Korean, Velasco said.
Presently, Biola only owns a small amount of about 20 headsets but students can expect to see progress by 2020, according to Velasco.