Sports camps abound for Biola
Biola's athletic department scheduled 17 camps this spring and summer.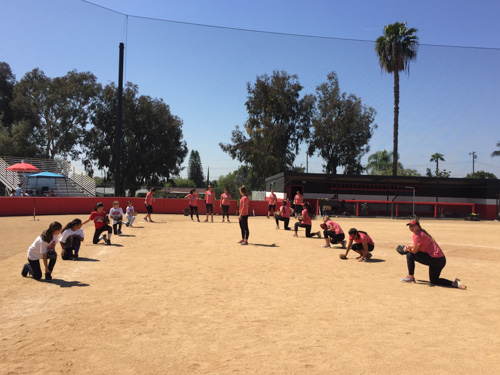 Dale Fredriks, Writer
May 18, 2016
School is coming to a close, which means it is time to prepare for a number of spring and summer sports camps that Biola offers. This year, seven of Biola's sports are represented in the pool of 17 total camps, catering to athletes of all ages. Three have already occurred, but the rest remain available.
Camping out
Both the men's and women's basketball teams will host two camps each this summer. The women kick things off with a team camp on June 18-19 where high school teams can come and receive instruction from Biola coaches, then play four games against other teams. Later in the summer, on July 31, the women's team will host a prospect camp.
"We will invite about 50 top prospects for education about recruiting, basketball instruction, and to introduce prospects and their families to Biola University and our basketball program," said Alan Nakamura, head coach.
The men's team offers two camps as well on July -1821 and July 25-28. Both camps are open to boys and girls ages seven to 14. Head coach Dave Holmquist will give instruction on basic basketball skills as well as life advice on improving practice habits, setting goals and building relationships.
The women's soccer team scheduled three events total, one of which has already happened. The coaching staff hosted a camp on April 15-16 that was intended for athletes interested in attending Biola and playing on the soccer team. A similar camp is scheduled to take place on July 18-21, run simultaneously as an open camp designed for younger girls to come in and get experience in a competitive environment.
Men's baseball offers five camps, the most of any sport. Four of the five camps, including one that already occurred on May 14, are recruitmentcamps for uncommitted high schoolers where Biola coaches evaluate the players and inform them on the recruitment process. The fifth camp is July 10-13, and focuses on training high schoolers in the college baseball process, though not necessarily for recruitment.
Biola's successful volleyball program is set to host two camps of their own. They have a camp on July 18-20, which is open to girls from fourth to eighth grade, and another from July 21-23, which is available to high schoolers and 2016 high school graduates. Both camps will feature teaching by the current coaching staff and current and former players.
Of the final three camps offered, softball claims two of them, with a camp for girls in the community and a two-day leadership training camp from July 18-19. The first camp raised money for the softball team's mission trip to Cuba this summer, while the second camp aims to teach girls how to be successful student-athletes in college.
Here to serve
The final camp is the 33rd annual National Junior Tennis and Learning camp that spans from June 20 until July 29. The camp is hosted by Dee Henry, who, after 45 years, announced her retirement from head coaching Biola's women's tennis team. Henry will continue her involvement with the tennis program through teaching physical education classes.
"It is wonderful to see kids learn to love a sport that they can play their whole life," Henry said. "Tennis teaches life lessons like no other sport because they compete in an open sport with no officials and parents are not allowed to interfere. Responsibility, integrity, persistence and independence are just a few of the qualities they learn."
Further information about all of these camps can be found at http://athletics.biola.edu/sports/2008/4/7/biola_camps.aspx.