Urban oil drilling harms residents and environment
Hundreds marched on May 14, 2016 to break free from fossil fuels in Los Angeles.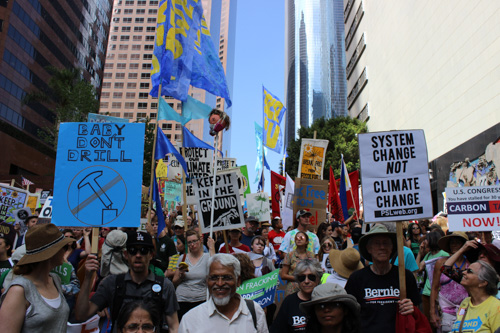 Bright, colorful banners and beautifully painted posters adorned the gloomy sky as hundreds of college students, environmental activists and concerned community members convened at the Los Angeles City Hall to protest urban oil drilling last Saturday. The demonstration, appropriately named "March to Break Free From Fossil Fuels," started at city hall and ended approximately one mile away at the Gas Company Tower in downtown LA. The march was an expression of solidarity with global struggles against fracking and oil drilling.
worst nightmare
I was honored to stand with fellow activists as we nonviolently demonstrated against the environmental destruction and the harm brought onto predominantly low-income neighborhoods by urban drilling. The members of the aforementioned neighborhoods who lived next door to what I would later learn to be a carcinogenic wasteland of toxic fumes and flames did not have the privilege of learning about this issue in a newspaper like I did.
Living next to an oil field or having an oil refinery in your backyard is one of the worst nightmares a homeowner can have. To have one's property value decrease because of an oilfield is one thing, but to endure exposure to harmful chemicals because of an industrial chemical actually occurs quite often in urban communities.
Employees of SoCalGas discovered a leak in the underground natural gas facility in Aliso Canyon in LA on Oct. 23, 2015. The gas leak not only affected the nearby Porter Ranch neighborhood, but also left an environmental disaster big enough for Governor Jerry Brown to declare a state of emergency on Jan. 6, 2016. In an article titled "The Invisible Catastrophe," The New York Times Magazine called the accident, "A menacing disaster that causes mass vomiting and mass nosebleeds in a wealthy, vote-rich community."
The Aliso Canyon gas leak is  the worst man-made greenhouse-gas disaster in history, but exposure to dangerous chemicals and gases is just a daily part of life for those too poor to garner the media's attention or afford expensive lawyers to defend them in a court of law. Urban communities and minorities have always and will continue to bear the brunt of environmental disasters.
Nothing new
This is nothing new. The journalist Chris Hedges and cartoonist Joe Sacco elucidate this in their book, "Days of Destruction, Days of Revolt," on the expansion of "sacrifice zones" across the country — low-income areas plagued with industrial decay, poverty, bankruptcy and exploitation from corporations and banks. Industry standard for energy companies takes advantage of the working class. One of the speakers at the march included Andres Soto, an environmental activist from Richmond, Calif. According to Soto, "Police violence was part of the political economy that would prefer low-income and undereducated residents who would be distracted by drugs and drug violence, underemployment and corrupt politics rather than dealing with Chevron's issues."
Families who live next to the Phillips 66 refinery in Wilmington or the Inglewood oil fields have to sacrifice their health by living next to these large oil behemoths. The economic and bodily cost of living under the silent tyranny of the oil industry becomes significant as residents become exposed to dangerous chemicals such as benzene.
The oil industry is one of the most financially and politically powerful forces in the country and throughout the world. Combating climate change and environmental destruction requires all of us to "think globally, act locally."