Bon Appétit served up award
Bon Appétit won the sustainability award with eight other companies and organizations.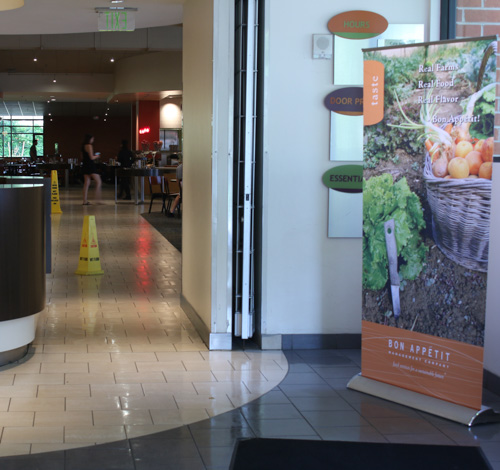 Bon Appétit, the food service company that supplies meals for Biola, received the Acterra award for sustainability.
promoting sustainability
The award ranks as the highest within the annual business environmental awards, given for successfully achieving the three-fold benefits of people, planet and profit as well as advancing sustainability, according to Acterra. Bon Appétit won the award in addition to eight other companies and organizations, all within the Bay Area, from Alameda County to Santa Cruz County.
Bon Appétit also services other universities, museums, public restaurants and corporations in a total of 31 states. While working in all of these places in hopes of winning the award, Bon Appétit strived to show their established programs, promote sustainability and fulfill key business factors, as laid out by the Acterra category descriptions.
"Biola doesn't play a role so much as it would be them participating in the policies and practices that Bon Appetit has as a company," said Vincent Hawkins, Caf manager. "We follow the guidelines and we set forth policies regarding the things we buy, with how we prepare our foods, how we make foods from scratch, how we use sustainable products, how we require our accounts, including Biola, to have a certain percent of our purchases locally done from local purveyors and farms."
Acterra judged each of the companies and organizations who were in the running based on leadership, significant social and environmental benefits, potential model for the business community, and demonstrated commitment. Although Acterra announced the awards on March 21, they will hand out the awards at a reception on May 26.
Bon Appétit differs from other companies by buying products from local farms within a 150 mile radius of the location of service as a part of their Farm to Fork program. For Biola, this means from Bakersfield to Tijuana, Hawkins said.
"I think it's just cool how they use the local [ingredients] locally grown and everything. I think it does show in the food…like in the salad bar and then in the mornings I always get the Biola scramble and so I always get the tomatoes, onions, mushrooms everything that I have tastes pretty fresh," said Paige Allen, freshman sociology major.
Benefits outweigh the costs
The judges, consisting of company leaders from a variety of places, also noted that Bon Appétit carefully prevents food waste, which ultimately decreases their carbon footprint. Bon Appétit also makes their food from scratch, and the benefits outweigh the costs.
"The canned and frozen products…you don't have to use, even though it may be easier and sometimes even more affordable, you're losing value in not only nutrition but also in taste," Hawkins said.
Sophomore elementary education major and Caf worker Kimberly Brown also thinks making the food from scratch improves the food's taste.
"I think that it makes it a lot fresher for the students, rather than having a lot of preservatives in the food," Brown said.
The fresh products come from the use of smaller-scale farms in the vicinity to improve the food quality.
"We deal with mostly smaller farms that deal with, a lot of times organic foods. They're providing for us a healthier product that we in turn are able to use in our production of the food here and make better food and at the same time educate the students on what the benefits of it is," Hawkins said.