Swastika drawing unearths preexisting wounds
Whiteboard drawing above students' door prompts discussion about race and diversity in Biola's community.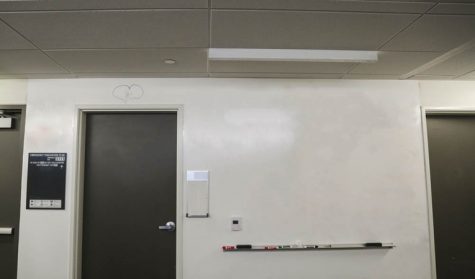 Updated May 1 at 8:55 p.m.
A large response has arisen from the Biola community in recent days, triggered by an action in Blackstone Hall now under investigation as an alleged hate incident.
On a community whiteboard, a preexisting drawing of a cross inside a heart was defaced with dry-erase marker to resemble a swastika. Though drawn on Thursday, April 14, Student Development and Campus Safety did not become aware of the incident until Monday, April 18 through an email they received.
"Right now, it's a hate incident. Yeah, it's being investigated immediately after I found out. After I found out we brought in the Sheriff Department's team and we are investigating it," said Chief John Ojeisekhoba of Campus Safety. "I can confirm to you that there's external agencies that are involved as far as what the Sheriff's Department told me."
The individual responsible for the drawing has yet to be identified, according to Campus Safety.
STUDENTS NOTIFIED
Students were notified through an email from Danny Paschall, dean of students, and Pamela Christian, vice provost for inclusion and cross-cultural engagement, sent on Tuesday, April 19 at approximately 6 p.m. Parents received the same email on Wednesday, April 20 at approximately 5:40 p.m.
"Our goal was to communicate, to acknowledge something happened, try to design something to begin a healing process, and so in that, with the information we had, we shared as clearly and transparently as we could communicate our goals to our community," Christian said. "So the initial letter coming from myself and Danny Paschall was focused on those three things, let's do it quickly, and have these objectives met."
STUDENTS REFLECT ON INCIDENT DETAILS
Sophomore business major Luke Singleton lives on the affected floor in Blackstone Hall. Though he had not seen the symbol himself, he believes the symbol was not directed toward the residents of the room the swastika was drawn above: one Caucasian student and one African-American student. According to Singleton, the floor is known for inappropriate and crude drawings on the community whiteboard wall.
"Most of the time… idiot guys will draw inappropriate, crude things on the wall and so from my experience, because the floor is pretty small, there's 30 guys, I am 90 percent sure that it was a stupid joke and the problem is that it was still really wrong and they should be punished for it," Singleton said. "I don't think it [was] meant as racism or have any malicious intent."
Singleton continued to explain that the affected student, who is the resident advisor of the floor, would consistently report crude drawings written on the board and acknowledged the actions of  residents were becoming too inappropriate. The RA felt the need to report the incident to the Blackstone resident director, Meleca Consultado, in order to prompt a floor meeting.
"Before a swastika was drawn above my door there was a cross. When I walked onto the floor and saw someone had decided to add lines to the cross and turn it into a swastika, I was disappointed and confused. My first thought was, 'How could someone do such a horrid thing to the cross.' Taking a symbol that reminds us, as believers, of the redemptive work of Christ and turning it into a symbol that communicates hate and pain is disheartening. This incident is a cataclysmic moment for Biola," said the affected African-American student in an email statement to the Chimes.
University Communications and Marketing requested the identity of the affected students and name of the floor in Blackstone not be published.
Sophomore psychology major Arthur Saldana also lives on the affected floor. He expressed frustration regarding how Campus Safety reported the incident, causing the original email to lack what he felt was important context.
"…People put inappropriate things on the board before and we would have said, 'Yeah, we joke around in bad ways' and sometimes they shouldn't and that would have provided a lot of context," Saldana said. "I'm not very appreciative of it at all. I know a lot of people on our floor were just not at all appreciative of that."
Students misunderstood the use of the word "over" in the initial email, assuming the swastika was drawn directly onto the face of the door. Christian expressed the misunderstanding of the word "over" was due to the wrong interpretation by readers since the word "over" was used in the original report by Campus Safety to mean above.
Another concern was the implications of only mentioning the African-American student but not his Caucasian roommate. The African-American student informed Student Development of the drawing, who filed the report to Campus Safety, without the collaboration of his roommate. From there, the report was passed along to Christian and Paschall, who formulated the email that did not mention the roommate.
In response to the email, the Chimes received a statement from the Black Student Alliance on April 20 expressing sadness and a call to action for Biola's community.
"What was done was not of Christ, was not done through love. We must realize that racial reconciliation is a part of the Gospel," said BSA executive board members. "I appreciate Biola administration's response to this but I also want to encourage more proactive engagements with this issue. Biola University is on the right track but more must be done."
PLANNED FORUM AND PANEL PROMOTE EXPRESSION
Two events were announced in the email to occur on Thursday, April 21. A forum was held in Blackstone Hall at 2 p.m. and a panel and discussion was held at 6 p.m. in the Mosaic Cultural Center. For both events, approximately 60 students, faculty and staff gathered together to speak on racial issues experienced while at Biola.
Students were upset by the news revealed through the email and expressed their reactions and grievances at the forum and panel events. Junior journalism major Lauren Hall shared her appreciation for the opportunity for open communication about the incident and her personal anger, hate and frustration towards the act.
"I'm glad that we, especially as a student of color, have this space to come here and to mourn with my brothers and sisters and to help educate and be educated by people and with people," Hall said. "I am glad that we are able to have a space on campus where we can dialogue about issues that are hurting students at Biola deeply."
Taylor Stribbling, Student Government Association president and senior sociology major, attended both the forum and panel. In her leadership position on campus this year, Stribbling has advocated for more conversations regarding diversity and racial reconciliation in Biola's community.
"I'm very appalled something like that could happen here at Biola, but I'm not necessarily shocked because I've been involved in the conversation all year and understand that stories come up all the time. People just aren't listening and so something like this is so heavy and is now making people pay attention," Stribbling said.
STUDENTS VOICE CONCERNS
Since the forum and panel discussions, students have expressed ranging opinions and emotions concerning the drawing's impact on the community. Saldana noticed many students have conveyed apathy or unconstructive anger.
"I think there's also another extreme to where…you're not necessarily looking for unity or reconciliation, you're more looking for just to be mad and I think that's also a danger," Saldana said.
Many members of the Biola community have taken to online groups such as OVERHEARD@BIOLA or posted personal open letters, such as the blog post by alumnus Justin Campbell and a response piece by Nancy Yuen, associate professor of sociology. Students also responded by creating and sharing surveys seeking such goals as to gain support for a mandatory course in social justice or race relations.
Media outlets such as Whittier Daily News, ABC7, The Orange County Register, The Washington Post and The Daily Dot also covered the incident.
ADMINISTRATION SEEKS TO PROMOTE DIVERSITY PROGRAMS
Multi-Ethnic Programs and Development proposed to the SGA senate on March 17 for more funding next year, $10,000 more than the current approximately $20,000, in order to restructure the department.
Student groups already established on campus include BSA, Maharlika and Unidos, programs under the funding of Student Programming and Activities, and staff- and faculty-run groups such as Chocolate Chat, Iron Sharpens Iron and Latina Connect.
Todd Pickett, dean of spiritual life, said that chapel programs has found ways to partner with Student Development in addressing racial reconciliation within six or seven areas of education on campus. This includes 40 percent of chapel speakers being persons of color.
"Gospel choir is involved six or seven times a semester. We're seeking diversity in worship. We have Spanish chapel. We have lots of kind of events that occur in Student Development that we're a part of so we have an ongoing effort to make racial reconciliation one of the marks of spiritual maturity," Pickett said.
President Barry Corey expressed heartfelt concern to students during a chapel on April 20 regarding the email sent to students the evening of April 19. Corey sent out an email to students on Monday, April 25 at approximately 5:25 p.m. and to parents on April 27 at 1:30 p.m. He placed an emphasis on being more repentive prayers and attentive listeners, which culminated in his call for a day of prayer and fasting on Wednesday, May 4. Classes will be postponed from 10:30 to 11 a.m. for an assembly of students, staff and faculty on Metzger Lawn.
AUTHORITIES CONTINUE INVESTIGATION
Campus Safety and LASD continue to investigate the incident, taking measures to aid students and properly respond to and handle this incident. Consequences for hate crimes that take the form of swastika drawings are severe. Under penal code 11410-11414 section C, any person who places or displays the sign of the Nazi swastika on private property could face imprisonment or fines up to $10,000.
"Everything has been taken into account. Everything. Everything, you know, working with the Sheriff's Department. They assigned two detectives to the case. Everything has been taken into account because this is unacceptable," Ojeisekhoba said. "I'm not saying it's unacceptable because I'm an African-American, I'm saying it's unacceptable as a chief law enforcement officer of campus. It's unacceptable."