The Invincible Death Grips destroy Pomona
Last week's show at the Fox Theater was a bloody, brutal and fantastic mess.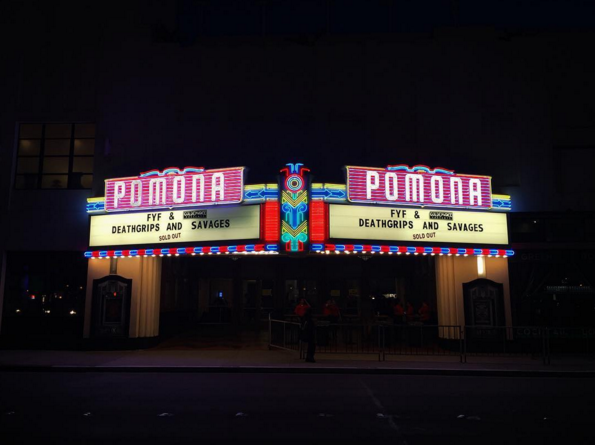 It really is a shame Death Grips has become so prominent in meme culture.
unified among meme pages
For one, it is wholly bizarre a band so divisive has found itself unified among meme pages everywhere. But it also makes it difficult to talk about Death Grips with any sort of hyperbole and still be taken seriously. They exist at the pinnacle of indie-music-publication-nirvana, from the ravings of the "Internet's Busiest Music Nerd" Anthony Fantano, to gushing Pitchfork reviews and countless memes. It has become a joke in and of itself to put Death Grips on a pedestal, and herald them as the saviors of indie music everywhere. It is easy to look from the outside in and hesitate to swallow the hype, but anyone who has seen Death Grips will inevitably say the same thing — they are one of the most important bands to release music this decade.
Death Grips' show last week at the Fox Theater in Pomona was the first time I had been close enough to catch MC Ride's spit, but I caught their set at FYF last year. This time, the band was not obscured by swirling clouds of dust, thrown up from the absolutely brutal circle pits between me and the stage. I hugged the rail at the front of the venue, breathing whenever the crowd let up for half a second, absolutely mesmerized by the dissention I saw in front of me.
every sense of the word
Death Grips do not care about you. They do not care if you like their music. They do not care what Pitchfork says about them. I asked my girlfriend and junior philosophy major Jillian Bradford that night if she thought Death Grips and Kanye would ever collaborate, considering Yeezus took heavy inspiration from their early work.
"I feel like Kanye would ask them, and they'd say no," she said.
They embody punk in every sense of the word, even if there are no guitars onstage, or recognizable song structures. They exist to mess up your head, to give you the tools to experience rage, catharsis and ecstasy all at once. Most importantly, they anger as many people as they can. Part of me was terrified the band would not show, after their infamous no-show Chicago concert, where they put instruments onstage, along with a projection of a fan's suicide note, and never showed up.
When they did take the stage, the lights were as low as possible. Just eight blue stage lights dimly lit the stage, and MC Ride never had a spotlight on him. Not once. Their priority is not in any sort of visual aesthetic, but rather the absolute thunderstorm they invoke onstage. I was close enough to see MC Ride's eyes nearly roll back into his head. Later, I found myself staring at Zach Hill's drumming, his sticks blurring together on what looked like a child-sized drum kit. Everyone moved as one solid unit, with the crowd swelling backwards and forwards in unison, all drawn to MC Ride's hypnotic, aggressive delivery.
never truly existing
The "punk is dead" narrative never truly existed — people just stopped looking in the right places. Subversive music cannot die, the torches are just passed along, from hardcore punk to gangsta rap and everything in between. For last week's show, I stood next to a 15-year-old boy, his broken arm in a cast, and a couple that was at least over 50 years old. They were all in the mosh pit, invincible for a moment.