CMA Department reels in the year
Film students and faculty gather at the annual film festival to celebrate productions created throughout the year.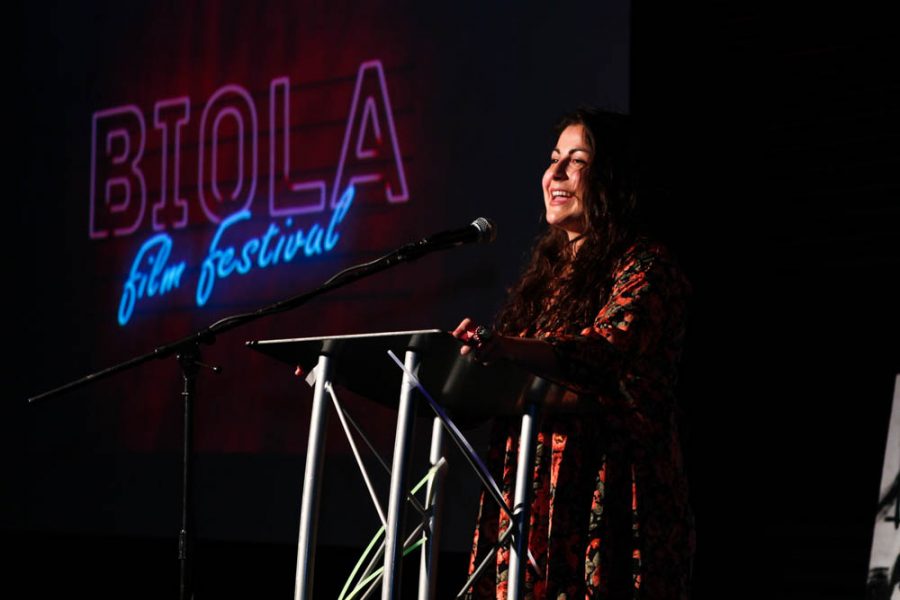 About 200 students, professors, alumni and Biola community members gathered at Biola's production center for the annual cinema and media arts department film festival on Friday, April 15 to premiere films and award students for their contributions.
A VARIETY OF GENRES
The Oscars-style event included four showcases of the 28 nominated films for the Biola community to view, a mixer and the award ceremony. Twenty awards were given to student films created during the 2015-2016 school year.
"Biola students can go and see what the cinema/media arts department has been doing and the impact we're trying to make in the film industry [and] just coming to see our art, and see how we express our faith through our films," said Sophia Nordell, freshman cinema and media arts major.
The four showcases were divided by genre and each contained between six to eight films. The genres were comedies, artsy and experimental, dramas and one with a variety of web series and music videos.
Awards included many different roles of film production as well as different genres like best documentary and best music video. A new award, the best visual aesthetics award, was presented this year and was specifically geared towards the freshman class. It was given to the film "First Date," directed by Christopher Blanco, freshman cinema and media arts major.
A REAL SCENARIO
The event has been in planning since December, by cinema and media arts majors Nordell, Andrew Corl, junior, and Ryan Dayhoff, senior.
Dayhoff says that although giving and receiving the awards is fun, the best part is simply recognizing and supporting everyone's hard work as a community.
"No one really cares about the awards," Dayhoff said. "I mean it's nice to have your mom look at it, but it's a real scenario where you get to look at everyone else's work…kind of a way to view them and appreciate them and talk to each other through the stage and through the comedy behind each other. It's my favorite day of the year."
A WARM ATMOSPHERE
Cojo Carl, sophomore cinema and media arts major, attended the event for the first time and admired the appreciation shared by all the contributors to the films.
"It was so cool. I loved all the effort everyone put into it. I loved the warm atmosphere, and how welcoming the environment has been," Carl said. "I've gotten to work with a lot of [the nominees] on films and…it was just fantastic to know that everybody is looking out for each other, wanting to promote each other."
About the Writer
Jana Eller, Office Manager
As a senior intercultural studies major, Jana Eller loves stories, serving people and having lots of adventures. She can never pass up a good boba run and has a slight obsession with cows.

[email protected]



I came into college as an intercultural studies major with a faint interest in writing and journalism. After freelancing my first story, I fell in love and began building my way up through the ranks, holding multiple editorial positions along the way. After working on staff for...