A trio of track meets
Biola's track and field team competed in three separate meets across Southern California on April 14-16.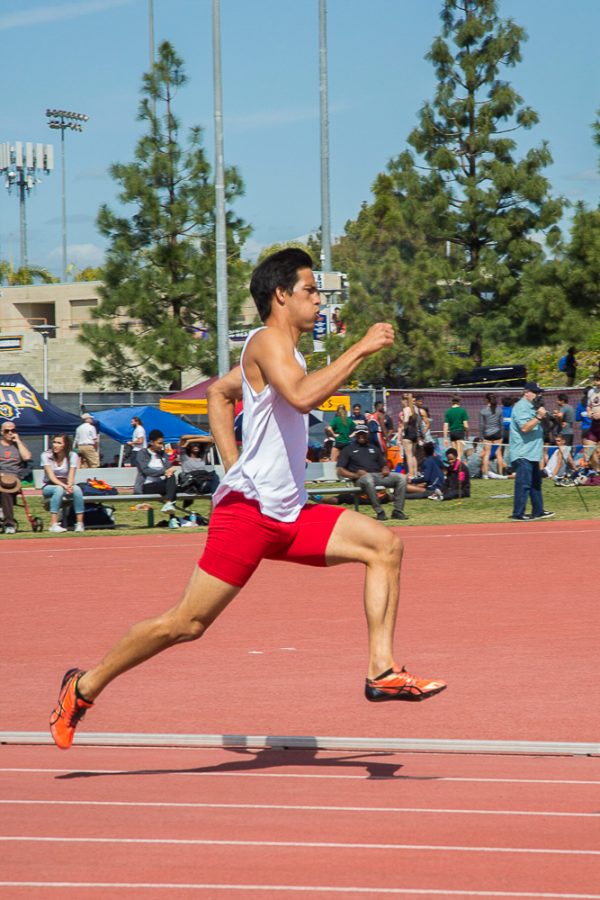 Dale Fredriks, Writer
April 19, 2016
The Biola track and field team had a busy weekend, as it sent representatives to three different meets: the Azusa Pacific Bryan Clay Invitational, the Long Beach State Beach Invite and the Mt. Sac Relays.
New personal bests
Each meet took place over three days, from April 14-16, with some athletes competing at multiple meets. The Eagles did not receive a team score for any of the meets, but there were a total of nine new personal bests set over the weekend.
The majority of the Eagles' team made appearances at the Bryan Clay Invitational, where seven of the nine personal bests were set. Senior Megan Crumley set one of them in the shot put by throwing the ball 11.00m, earning her an eighth place finish. Senior Elyse Harabedian competed in the heptathlon, and finished with three new personal bests in the shot put, 200m and high jump. Senior Anika Gasner recorded a new season-best time in the 1,500m, where she finished in 4:33, good enough for second place in the event.
The remaining two personal bests at APU came courtesy of the men in the 1,500m. Freshman Tim Seeburger and sophomore Jonathan O'Neil ran well, with Seeburger third in his heat with a 4:19 and O'Neil finishing second in his heat with a 4:07.
Other standout performers at the APU meet included sophomore Hannah Hunsaker and senior Alisa Murray. Hunsaker and Murray both competed in the 1,500m, finishing in 4:47 and 4:38, respectively.
LBSU invite
At the LBSU Invite, Murray and Hunsaker again had solid performances, this time in the 800m. Murray finished the race in 2:14, good enough for an 'A' national standard. Hunsaker finished in 2:18, setting a new personal-best in the process, the eighth for the team on the weekend. In between them finished Gasner, who recorded a time of 2:15. In the men's 800m, senior Andrew Daedler finished in 1:54.31, barely beating out teammate sophomore Wes Noyes who ran a 1:54.70.
Finally, the Mt. Sac Relays hosted a variety of schools from NCAA division I to NAIA. Biola represented themselves well despite the huge talent, with another personal best and an NAIA second-best run in the 1,500m. Sophomore Lyndee Dawson beat out her personal best in the 3,000m steeplechase by seven seconds, improving her best time to 10:41. Senior Kellian Hunt finished the 1,500m in 4:31, which earned her a second place finish in her heat as well as a second-best time for any NAIA athlete present.
The Eagles have two weeks to rest and prepare for the next meet — the Golden State Athletic Conference championships on April 28 and 29 in Santa Barbara, Calif.