"Can't Buy Me Love" provides an easy laugh
The '80s classic is perfect for the end of the semester slump.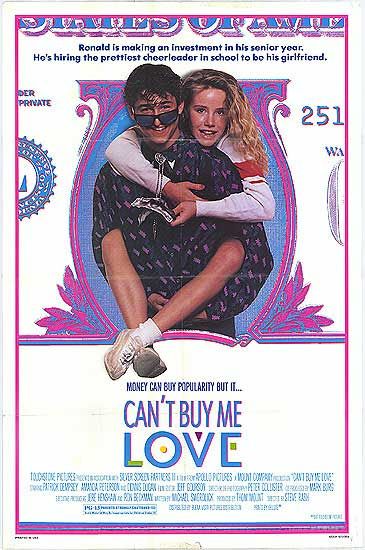 Hayley Langdon, Writer
April 13, 2016
We have reached that point in the semester where you look around and find the mounds of reading, test prep and papers surrounding you. You could start to diminish the stack and take the remainder of the semester head on. Instead, you go on your computer and before you know it, you find yourself on Netflix searching for a good distraction from all the stress this part of the semester brings. There is no need to scroll through the endless genre lists, however — just search for "Can't Buy Me Love."
DREAMS OF DATING HER
The 1987 classic directed by Steve Rash stars Patrick Dempsey and Amanda Peterson at the beginning of their success, bringing you the quintessential teen movie. Ronald Miller is unpopular and has his eye on Cindy Mancini in school with dreams of dating her. The high school social order that dictates their lives ensures there is no way the captain of the cheerleading team would ever date the guy who mows her lawn. So, of course, he pays her $1,000 to date him for a month. He gets the girl and also gets to experience the life of the "cools" for a little while.
Ronald, played by Patrick Dempsey, is a cute nerd who already has some of the trademark McDreamy charm Dempsey brought in the television show "Grey's Anatomy." Amanda Peterson plays Cindy, and despite the real-life five-year age gap between her and her co-star, she was believable as the high school senior who had more maturity than Ronald.
RELAXATION FOR YOUR MIND
Watching this movie, I could think of a handful of other films I have seen that somehow resemble this plot line — all the way from "Say Anything" and "Pretty in Pink" to "Easy A" and "She's All That." That did not deter me from enjoying the movie, however. "Can't Buy Me Love" is full of ridiculous scenarios that although predictable, still made me audibly laugh outside of Common Grounds, where I was watching the film. The plot line was obvious, but I was interested throughout and cared about the characters enough to want to see how things would turn out for them.
Sure, there may be better movies out there, but if your semester has reached point where everything seems a bit too much and you just want to stay under your covers all day, at least turn on "Can't Buy Me Love" while under them. If anything, the Netflix find will give you over an hour and a half of relaxation for your mind.