Students apathetic towards voting
A large percent of students feel either unsure or unwilling to vote in the 2016 presidential election.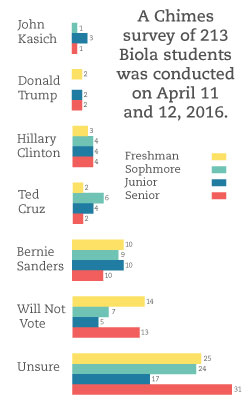 With voting for the national election only seven months away, the majority of Biola students are still unsure who they will support.
Over 60%
In a Chimes survey of 210 students, 46.2 percent said they were unsure and 18.1 percent will not vote. This was a trend amongst students regardless of their year. Only the remaining 35.7 percent of the students surveyed indicated their support for a specific candidate.
"Have you played Hungry Hungry Hippos before? So you know when you don't collect the balls all you do is just give what's supposed to be yours to everyone else and they end up getting more power so if [students] don't vote it just strengthens the vote of others and they're going to end up choosing someone you don't want," said David Rogers, senior political science major.
Reluctance to Participate
Students were quick to say who they did not support, but struggled to decide who they would support. This also manifested itself in a reluctance to participate in the election at all. Overall, the general impression of the election nationwide is not a positive one with most frustrated and upset with the choice of candidates for the future presidency.
"I think the level of unkindness, the general ignorance and lack of understanding from candidates is something I'm seeing. Whether its Trump, whether it's Hillary, regardless of what side it seems that there are deeper issues that are not being addressed by the candidates and many of them seem to fall on extremes," said Joshua Johnson, undeclared freshman.
In the survey, 35 students supported Bernie Sanders, 15 supported Hillary Clinton, 14 supported Ted Cruz, 6 supported Donald Trump and 5 supported John Kasich. Nationally, polls for Republicans show approval ratings for Trump falling while Cruz and Kasich rapidly rise. Meanwhile, Sanders and Clinton find themselves battling it out head to head.
Weighing the Candidates
Students cited that no option will be perfect but they must weigh the candidates and their platforms to the best of their ability to choose who is most appropriate.
"I'm not going to be expecting someone who doesn't even believe in Christ to walk like Christ so when it comes to society and social issues I definitely look at it in that perspective so I think Bernie stands for a lot of things I also stand for," said Angie Fuentes, sophomore sociology major.
For Rodgers, he prefers to have a president who has good intentions and will listen to the voices of others than someone who trusts solely in their own political power rather than seek the wisdom of God.
"For me what counts above all things is, in the biblical sense morality is more important. I'd rather pick someone who has a good heart and still has a lot to learn than to pick someone who can wield their political prowess or their influence in the business sector and feels that he does not need God, feels that he can go by his wisdom," Rogers said.
The Struggle
Ultimately, most students struggle to remain hopeful in this current national election because there is no clear cut choice for either political party and there has been evident enmity throughout the campaign.
"It's not pointless, it's not hopeless, but it's a shame. It's a real shame," Rogers said.