Renovations call for student input
Students do not know where their tuition money goes and they do not like it.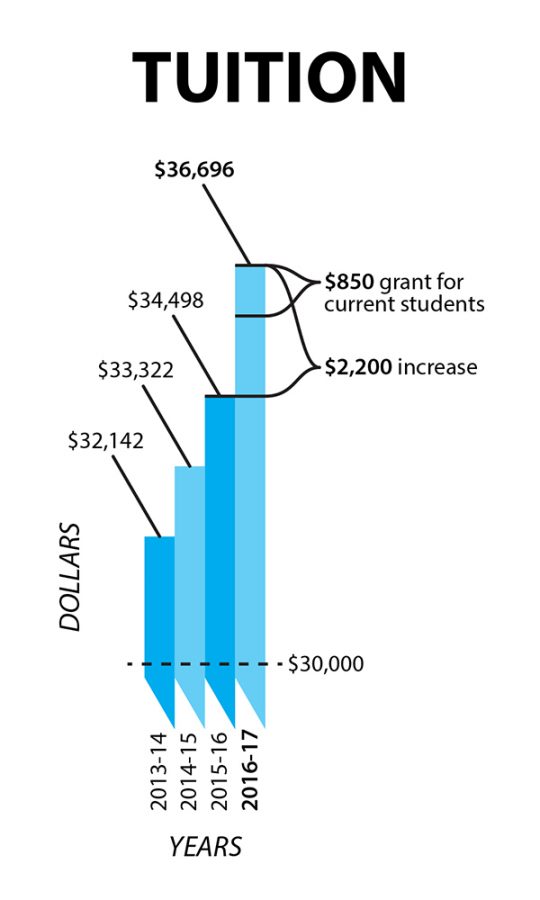 Kristen M. Smith, Writer
March 15, 2016
Biola's tuition costs continues to increase, and students want to know why. With a yearly $40,000 price tag for education, students should have their money go towards the improvements they want rather than wait and not reap the benefits of a new building until they become alumni.
Where does the money go?
With all the construction happening on campus, no wonder students question where their money goes. Multiple projects are happening on campus, but many students do not know what percentage of their tuition cost is contributing to these projects.
"I tend to think my tuition money goes towards professors' salaries and campus upkeep like paying for buildings and grounds and stuff like that. I have seen a bit of an improvement, but a lot of the projects are still in progress like the thing in front of Common Grounds and Emerson becoming offices," said Becca O'Niel, sophomore elementary education major.
Emerson renovations and the construction near Eagles Nest have caused many students to wonder why these projects receive funding while they still have to deal with a shortage of classes.
Passed Proposals
To solve this problem, SGA recently passed a proposal to provide senators with 15 iPad mini's to increase efficiency when surveying students during their rounds. However, this does not always reach all students across campus. More information needs to be released for students; otherwise they will be in the dark about what is happening on campus.
"I would want my tuition money to be used to take care of campus and improve it as well as paying for classes and professor's salaries. I would just like the students to have more of a day as to what would be valid improvements. For example, if the students had a say about what major or school really needed a new building, I would have thought an arts building would be more necessary as the science students already have a building," O'Niel said.
Biola students want to know what their money is used for and not making that information accessible hinders how the students view administration at Biola.
On-campus experience investment
"I want my money to be used for 'students' needs — longer library hours, longer caf hours, better gym equipment, being allowed to set my own air conditioning and more scholarships. The list could go on and on. I think our money should go towards things for the students," said Ally Ramos, sophomore communications disorders major.
Students have longed for these resources since their admission on campus. Helping the students' on-campus experience should be one of Biola's top priorities.
"I have liked the addition of Blackstone. It improves my life because now girls don't have to live three to a dorm anymore, which was pretty inconvenient," O'Niel said.
Some of the construction and renovations on campus have helped the students with housing problems, but this should be a standard for all decisions when dealing with tuition money.
Students' specific needs are not met and many people hope this will change. Tuition money should be used to benefit the university, which in turn helps the students become more comfortable and justified in paying such a high price for their education.