Biola student inaugurated into USC honors
After finishing two years at USC, Geoffrey Knopf has been inducted into IEEE-Eta Kappa Nu honor society.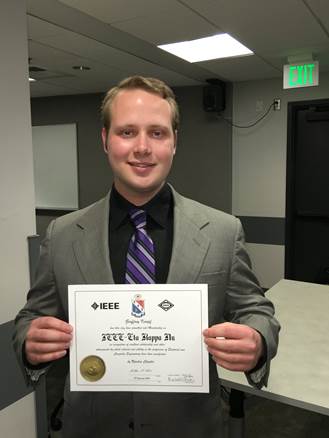 Geoffrey Knopf, senior engineering physics major at Biola University, has been inducted into University of Southern California's honor society, IEEE-Eta Kappa Nu, after completing the last two years of the 3/2 program at USC.
signing a contract
The program first appeared in the catalog in 1986, said John Bloom, chair of the chemistry, physics and engineering department at Biola. Biola and USC signed a contract that is annually reviewed to ensure students receive the best education.
The 3/2 program requires engineering and physics majors to attend three years at Biola before attending the final two years at USC. This program allows students to graduate with two diplomas.
"From [Biola's] side, we essentially have a contract with USC," Bloom said. "Part of the 3/2 [program] is you get a bachelor's from [Biola] and a bachelor's from the other school."
level of rigor
However, engineering physics students can also apply to other universities that catch their eye if they decide USC does not suit them. Students can apply to universities both in state and out of state, even though Biola is not contracted with them and still receive two diplomas.
"Part of it is the student's own initiative in terms of, 'Oh, I'd really like to go there.' And as far as those schools are concerned, they're just a regular transfer which they take," Bloom said.
Knopf heard of the program from his mother, Lydia Knopf, youth academics director at Biola, and decided to go through it before he entered Biola. Though he expected USC's engineering program to be more difficult, he was surprised when he found the two similar.
"USC is very different from Biola. One thing though that I thought was cool, the level of rigor between USC and Biola's engineering program is very similar. I thought when I transferred over to USC it was just going to be crazy hard and I wasn't sure if I'd be able to make it, but it turns out they're pretty similar actually. I was very impressed with the quality of Biola's program," Knopf said.
school of choice
Current sophomore engineering physics major Kristen Granger will go through the program and has one more year to attend at Biola before she transfers to a school of her choice. Though she remains unsure which second school she wants to attend, she plans to decide on either USC as her first choice and University of Washington in Washington, her home state.
She feels professors at Biola truly care about her education with small classes in her major. It also allows her and others the liberty to meet with professors during office hours without fear.
"So far, I like the small class sizes. It allows you to get to know the professor a little bit so you don't feel so intimidated to have office hours outside of class to get help or ask for advice. They're really there for you, that's why they're here, that's why they want to be at a place like Biola instead of another big institution or industry they really like," Granger said.