Bon Appetit cooks up awareness
After encouraging students dump their food in buckets, Bon Appetit reduces food waste by a third.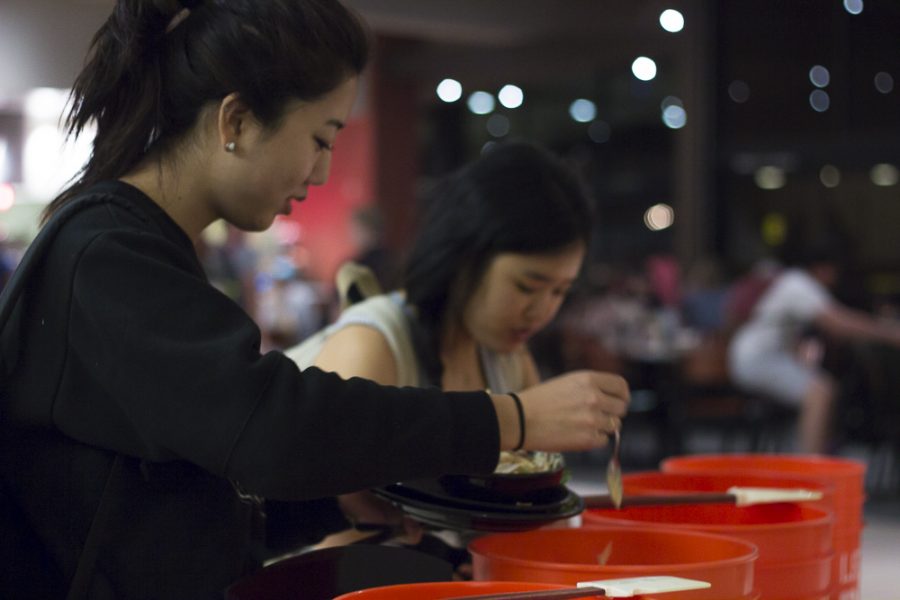 Bon Appetit conducted a two week experiment from Feb. 15 to 26 that measured the amount of food wasted by students every day.
A Success
Bon Appetit considered it a success and saw a significant decrease in the number of five gallon buckets filled with wasted food.
Several students thought that Bon Appetit would collect between 20 to 40 buckets by the end of the week. The first week, when the caf workers collected food out of students' sights, they collected 161 buckets of food waste. When students could visually see the amount of food in the buckets, the number decreased to 104.
Making an Effort
Vincent Hawkins, cafe manager, scraped food off individual's plates into the buckets. He saw the students respond to the buckets and making an effort to change their eating habits.
"I saw as the week progressed an interesting occurrence was a number of the students would, as they would go past the table, show me their plates saying 'Look I'm getting better'…and so they were quickly aware of what we were doing," Hawkins said.
Good Stewards
Steve Rall, general manager of food services, said Christians need to be good stewards of the resources they have and how students should carry that out in their daily lives.
"In the Christian community [people need to be] good stewards of the earth. When you're wasting food, it adds to global warming, and all that stuff. That food had to be produced, had to get here, electricity, refrigerators, all that stuff to make it or hold it, and then by decomposing in the landfills —  it's wasteful," Rall said.
The first day students started putting their own food in the buckets on Feb. 22, Bon Appetit collected 49 pounds. When divided by the number of meal cards swiped, that comes out to a quarter pound of food waste for each plate used.
The Goal
The goal of the experiment, according to Rall and Hawkins is to raise awareness of the amount of food being wasted in the cafeteria every day. Rall and Hawkins want to encourage students to be better stewards of their given resources and appreciate the amount of effort and planning that goes into preparing each meal with nutrition and variety.
"It's a lot of planning and effort that goes into each meal, each item, each different special that we have has taken somebody a lot of time to put together. [Students need to] be aware of that [and to] continue to be the good stewards that they're asked to be," Hawkins said.
Responses
Students had different responses to the experiment. Some embraced the experiment and became more conscious of how many plates they collected and aimed to reduce that. Sabrina Strom, freshman history major, believes it will help keep the food belt cleaner and make work easier for the Caf workers.
"I think if people are aware of what the experiment is and they see that, I think that would definitely impact people because we all after the end of the day how much food is on the rotater, it's pretty gross. It will be good for that to change," Strom said.
New Appreciation
Others did not understand what the experiment was for, and chose not to participate in the experiment. However, Matt Cho, senior biblical studies major, has a new appreciation for it and is willing to be more aware of how much food he wastes.
"I had no idea what they were for, so I was like cool, thats neat, it's waste," Cho said. "Just seeing it there, puts it in the back of your mind so you're more conscious of it."
About the Writer
Jana Eller, Office Manager
As a senior intercultural studies major, Jana Eller loves stories, serving people and having lots of adventures. She can never pass up a good boba run and has a slight obsession with cows.

[email protected]



I came into college as an intercultural studies major with a faint interest in writing and journalism. After freelancing my first story, I fell in love and began building my way up through the ranks, holding multiple editorial positions along the way. After working on staff for...